4 ways to earn trust; 5 ways to keep it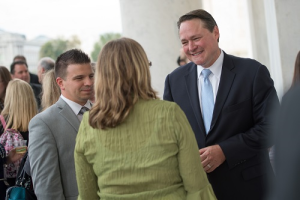 Earning the trust of your colleagues, your members and others in your professional and personal life is one thing, but being able to hang onto that trust is something else altogether.
Competence, reliability, honesty and consistency form the basis for trust, writes Lolly Daskal on her Lead from Within blog. Trust is the foundation of any business. You can't build a successful company without it. And likewise, you must be able to retain trust in order to grow and succeed. We've seen what happens when a company breaks that trust. (Need I remind of Wells Fargo's recent actions, which broke the trust of many of their customers and employees?)
In her blog post, Daskal lists four ways to earn trust: be credible, be consistent, be competent and be connected.
She also lists five ways to keep that trust, which is what I want to focus on:
- Be an example. Your actions need to match what you say. Period.

- Speak the truth. No matter what the truth is, speak it.

- Lead with integrity. Not only do your actions need to match your words, but they both need to align with your values.

- Be accountable. Don't make excuses for your mistakes. Show others how you learn from them.

- Help other succeed. Others should come first. If you help someone else succeed, you will have their trust for a long time.
Follow me on Twitter (@BDanBerger).