5 ways to be thankful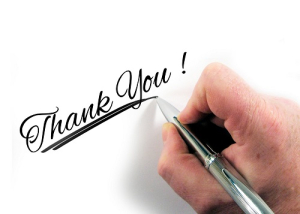 First off, I want to wish you all a Merry Christmas and a Happy New Year! I hope you enjoy time with your loved ones during this season.
For many, this is an easy time of year to be thankful – we are often surrounded by those we love, things in the business world tend to slow down a bit and we look toward a new year with excitement.
However, if you need a little help cultivating a spirit of gratitude or want to go deeper, Leadership Freak's Dan Rockwell lists five ways to be thankful. Here's his list:
Worry more about expressing gratitude than receiving it.
Notice things. Stay aware of what's around you -€" even on a mundane walk through your office hallways.
Take another's perspective. Truly imagine what it's like to walk in someone else's shoes.
Remember why you hired your staff.
Allow gratitude to stand on its own. Thankfulness should not be used as leverage.
Rockwell also lists seven principles of generosity, gratitude and influence; I encourage you to read those too.
Follow me on Twitter (@BDanBerger).