7 phrases a leader should never say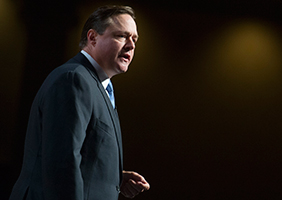 What and how a leader communicates can make the difference between an average leader and a great one. When we talk in front of our employees or deliver a presentation to a room full of people, those listening will take to heart not only what we say, but how we say it.
This is why we need to be constantly aware of what we say. I came across an article listing seven phrases that a great leader should never say, and I wanted to share some of them with you. The list includes:
- Because I said so. This statement will only shut down any kind of collaboration and creativity among your teams.

- It's not my fault. As a leader, it's our job to come alongside our employees and lead and guide them to success. Remember, the buck stops with us.

- I'm too busy. We always find time in the day to accomplish our priorities.

- Failure is not an option. Failure shouldn't be seen as all bad. It can be an important step on the path to success.
You can read the rest of the list on Inc.com. While we may have said some of these phrases in the past, this list serves as a good reminder to always be listening to what we say and how we say it.
We want to build up our employees and put them, and our organizations, on the path to success. If whatever we say promotes that end goal, then we are well on our way to becoming great leaders.
Follow me on Twitter (@BDanBerger).