7 things to build into your organization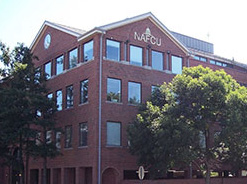 While we, as leaders, work to instill positive changes in ourselves, we must also create positive workplaces.
"The best bosses are culture creators," writes Nicolas Cole, Inc.com contributor. "They are far less interested in being 'seen' as the high-and-mighty leader, and much more focused on creating an environment that allows others to thrive, take on responsibility, and ultimately grow organically."
Cole lists seven things all great leaders should build into their organizations. His list includes:
Routine. Productive offices have routines, Cole writes. These routines – perhaps weekly meetings or check-ins – should create a sense of community and accountability.
Listening. When you listen to your team members – and by example, teach your managers to do the same – you create a culture that makes people feel safe and empowered.
Work ethic. Great leaders just don't "talk" about all the great things their organization does; they stay humble and focus on setting the pace for a strong office work ethic.
Family. Many team members spend more time with each other than they do with their own families. It is up to leaders to create a "family" culture at work where people look forward to seeing each other every day.
As we work on ourselves, we must also focus on our organizations and our team members. When we invest in our workplaces, the success of our teams will be boundless.
Follow me on Twitter (@BDanBerger).