7 ways to motivate your teams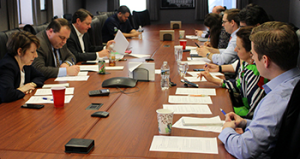 None of us would be where we are today if it weren't for our teams – the employees who support and accomplish important daily tasks and help the organization achieve its overarching goals. We need our teams, so we should ensure they have what they need to function efficiently and smoothly.
The Leadership Guy Peter Economy lists seven "super effective" ways to get our teams motivated in a recent Inc.com post. His list includes:
Show people you work with how much you value them. Remember to thank your employees and teams.
Create a welcoming workspace. Set up a collaborative and open-minded workplace.
Encourage collaboration. Allow teammates to work together rather than always having to go through a supervisor.
Don't discourage happiness. Laughter and positive thinking are critical to "providing your workforce with stability and a sense of fulfillment," Economy writes.
Offer encouragement in the face of failure. Let your teams know that failure is OK, as long as they learn from the mistakes.
Give space for self-management. Set the ultimate goal, then step aside and let your teams figure out how to accomplish it.
Don't waste people's time. Watch your meeting time and make sure people aren't convening for nothing.
Economy notes that "teams help you accomplish things in a fraction of the time, with much less effort than you would otherwise need, as long as they are motivated and working efficiently."
Any other solid motivational techniques you would add to this list? Let me know, and follow me on Twitter (@BDanBerger).