9 tips to harness the power of persuasion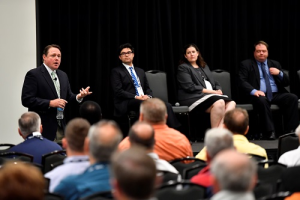 The power of persuasion is a balancing act between the effectiveness of your argument and how well you deliver it.
My career depends on the art of persuasion. I'm a lobbyist, and I have been a lobbyist for more than 25 years. To persuade and influence others takes practice and experience.
To help us get our messaging across in the most effective way possible, Entrepreneur contributor Jennifer Cohen offers nine tips. Among them:
- Timing is everything. In other words, be patient and think before you act (or speak).

- Practice empathy. Make sure you understand all sides to your argument and where people are coming from.

- Emphasize urgency. People tend to react and move faster if they feel a sense of urgency, Cohen says.

- Offer honest compliments. Be nice. People will remember.

- Be consistent and persistent. If people don't agree or react to you the first time, reevaluate your approach and try again.

- Exude confidence. If you truly believe your message, others will too.
And when you successfully harness the power of persuasion, be sure to thank those who took action. You might need them again. Follow me on Twitter (@BDanBerger).