Importance of relationships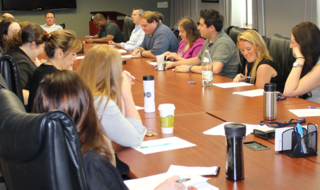 As I've moved up the ranks in the credit union industry, it has become apparent that relationship building is just as important to my job as possessing requisite technical skills.
I believe this is true for anyone in a management or senior executive role. The more meetings you attend and the more speaking engagements you're invited to, the better your people skills should (or need to) be.
As stated in Forbes, "as you climb the company ladder, you will rely far less on your proficiency with the business than your ability to work with people."
As this transition occurs, the article recommends focusing on:
- inspiring and motivating those around you;

- building depth in relationships; and

- developing your communication skills.
That first point – learning to inspire and motivate others – is a great way to become more of a relationship-focused leader. Inc.com gives a few basic tips on developing this kind of leadership:
- Be candid but not a jerk. This means watching how you respond to an employee when he or she offers a seemingly far-fetched or off-topic idea during a meeting.

- Be decisive but beware of the "because I'm the boss" mentality.

- Respond but don't overreact. "Responding requires thoughtfulness and tact. It's less emotionally driven and more solution-oriented," the article states.
I definitely have areas of expertise in my job, but my first priority is being a leader. I've noticed that as I continue to develop my relational style of leadership, I am building a stronger team and therefore providing better results for my industry.