NAFCU is No. 1 in advocacy for a reason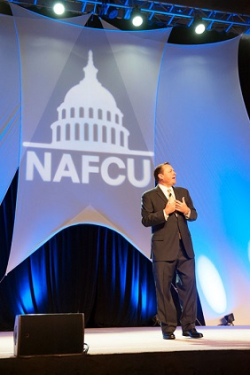 Being the best requires having a plan in place and executing that plan flawlessly.
Or, as stated by a Harvard Business Review article, "A brilliant strategy, blockbuster product, or breakthrough technology can put you on the competitive map, but only solid execution can keep you there."
This is why it is such an honor and privilege to lead an organization that is second to none regarding its advocacy efforts. During my speech at our Annual Conference and Solutions Expo earlier this month, I spoke about NAFCU's high marks in a McKinleyAdvisors benchmarking survey, including its ranking as a "market leader" on advocacy, compliance assistance and more.
These ratings are a direct result of NAFCU's unwavering commitment to its members. That survey showed credit unions counted competence, credibility, strong advocacy on legislative and regulatory issues and the provision of the latest information as NAFCU's key strengths.
The report also rated NAFCU as the market leader in terms of legislative and regulatory advocacy, education and compliance assistance. This comes as no surprise -" every single NAFCU team member strives each day to provide the credit union industry with the very best in federal advocacy, education and compliance assistance. 
To be the best, you need to know how to execute your strategic plan. Lee Colan, cofounder of The L Group, highlights three specific behaviors to boost your team's execution. They include:
Sharpen your focus.
Build your competence.
Ignite your passion.
A Forbes article gives suggestions as to how to sustain momentum for flawless execution: maintaining accountability, trusting one another and aligning to each other's strengths.
Thank you for your trust in NAFCU and for helping us be the best at what we do. Follow me on Twitter (@BDanBerger).