The truth about Wells Fargo and credit unions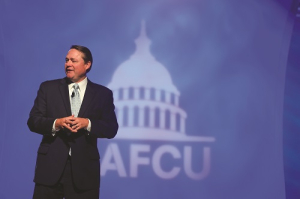 The fact is, bad actors and criminals can weasel their way into any profession, company or financial institution.  Yes, even credit unions.
That's why it's so incredibly important that credit union leaders continue to talk about the difference between banks and credit unions ... to everyone. We have a better business model and a supporting culture of member service. The discussion of having a culture of true member service must be part of any new employee onboarding, discussed on a regular basis at staff meetings as well as at credit union board meetings. We do it here at NAFCU under the auspice of "extreme member service."
Many credit unions have cross-selling programs as a way to increase "wallet share" and to develop a deeper, longer relationship with their members. My pal Jack Malcolm has a great book on how to properly create a sales and cross-selling program. Credit unions do a good job of offering products and services that members need and want. But the flip side is that there must be a culture of member service combined with a system of checks and balances to make sure everything is operating as designed. Could a bad actor disrupt this at a credit union? Maybe. But if you have a culture of member service, the potential is vastly reduced.  With credit union leaders talking about a culture of member service on a regular basis, holding staff accountable for maintaining that culture, the likelihood of a mass fraud is greatly diminished.
No, my anger about the fraud committed at Wells Fargo has not subsided. The bank's actions have caused a terrible ripple through Washington, D.C., making any CFPB reforms we have been working on darn near impossible to now get passed in Congress.  Even though credit unions are different than banks, Wells Fargo's fraudulent actions have tainted the entire financial services industry. And when that happens, often, more regulations come raining down.
Use the Wells Fargo scam as a vehicle to discuss culture and process at your credit union. Be proud of your credit union and your culture of member service. Because I am. 
Follow me on Twitter (@BDanBerger).