This is why we do what we do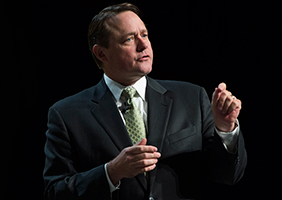 I've got to take a moment and get this off my chest: What Wells Fargo did – open more than 1.5 million likely unauthorized consumer deposit accounts and more than 500,000 credit cards – is despicable and flat-out fraud.
Time and time again, I am reminded that this is why we – the credit union industry – do what we do. For credit unions, their members are their owners. Every decision made, every new product and service introduced, is based on what is best for them.
This is why I do what I do at NAFCU. This is what makes me get up in the morning with relentless enthusiasm for fighting for credit unions. This kind of crap makes me angry. Consumers deserve better. Our country deserves better. Did the banks not learn anything from the financial crisis they caused?
Big banks have their shareholders' best interests at heart, and these actions by Wells Fargo clearly display that. The bank submitted applications for 565,443 credit card accounts without consent, and roughly 14,000 of those accounts incurred more than $400,000 in fees, according to CNN Money. Wells Fargo's actions resulted in a $185 million penalty from regulators and the firing of 5,300 employees.
While credit unions often fall under the jurisdiction of regulations and laws meant to target these criminal activities by the big banks, know that you are above the fray and noise of these actions. You know it, NAFCU knows it, and even regulators and lawmakers admit to it.
What an honorable industry we are a part of. Thank you, credit unions, for serving the American people with an unmatched level of honesty and integrity.