How to properly complete a merger while avoiding common pitfalls of the merger process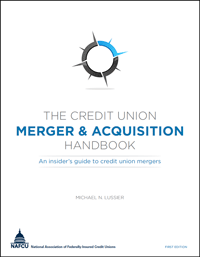 We fight every day to preserve, protect and grow credit unions. Mergers should always be a last resort. However, if a credit union absolutely cannot survive on its own, then the next option should be to find the best merger partner. A well-executed merger can result in increased products and services being offered to members, greater efficiency, and access to more branches and technologies that members want and expect. 
If you're considering a merger for your credit union then you need to know what it takes to merge properly. This book, written by former NAFCU chair and current CEO of Webster First Federal Credit Union Mike Lussier, will provide you with a step-by-step guide on how to successfully complete a merger from start to finish. Mike has successfully merged with 14 credit unions, and shares his expertise in 11 easy-to-read chapters, plus a multitude of real-word example documents and worksheets used during a successful merger process. 
Purchase now
$149.00
Includes hard copy and electronic PDF version
Get a sneak peek inside the handbook:
You'll find:
Why credit unions are merging and types of mergers
Deciding on the right merger partner 
Due diligence for accounting, HR, board and more
Membership considerations 
Preparing the merger package 
Integrating the merging credit union into the continuing credit union 
Buildings, branches and other assets
Converting the core processing systems – post merger
Merger marketing strategy
Example comparative analysis of credit unions
Sample confidentiality agreement
Checklists for accounting, consumer loans, the NCUA merger package, and more!
About the Author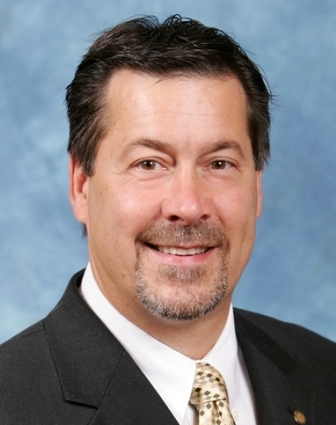 Mike N. Lussier, is president and CEO of Webster First Federal Credit Union in Worcester, MA, a position he has held since 1990. Webster First has grown from $87 million in assets and approximately 10,000 members in 1990 to $1.26 Billion in assets and 87,865 members in 2022. Mike also is president and CEO of Michael Lussier Tax Services in Sutton, MA. He's a past chair of the Massachusetts Credit Union Share Insurance Corporation, a past director and chair of NAFCU, a present member of the Allied Solutions Advisory Council and a director on the Defined Contribution Plan Board of Pentegra Retirement Services. Mike has completed 15 successful mergers with an average member retention rate of nearly 90 percent.  He is also the author of Mergers & Acquisitions Handbook offered at NAFCU Headquarters.  Mike is also a general aviation pilot.