By Jeanne Kucey, NAFCU Board Chair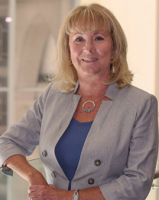 It's imperative that we, as CEOs of credit unions, have a broad understanding of the rules and regulations that will impact our bottom line. Although training can be expensive, it's nothing compared to the fines or fees we would face for noncompliance.
Your NAFCU membership provides a great way for you to stay on top of what seem to be never-ending regulatory changes. The government affairs division, which encompasses advocacy, regulatory affairs, regulatory compliance and research, coordinates strategically to make the biggest difference for credit unions. NAFCU's compliance team is a saving grace for many trying to review and understand challenging regulations. Plus, the team answers members' questions within one business day — something we like to call "extreme member service."
A great example of NAFCU's teamwork is its coordinated efforts on the current expected credit loss (CECL) accounting standard, which credit unions have told NAFCU is one of the issues they are most concerned about this year as implementation efforts get underway.
The Financial Accounting Standards Board (FASB) issued this standard in June 2016, and less than a year later, NAFCU released a study outlining some of the key qualities and trade-offs for a variety of models for CECL implementation. For the past three years, NAFCU has consistently sought more guidance on the standard from FASB and shared credit unions' concerns not only with the board, but also with lawmakers, the National Credit Union Administration (NCUA) and the Federal Reserve.
In February, NAFCU asked again that FASB reconsider its decision to include credit unions within the scope of CECL, arguing that credit unions have a unique capital framework and face certain regulatory constraints. The structure of credit unions' capital framework limits the NCUA's ability to mitigate CECL's effect on institutions' net worths without action from FASB.
While NAFCU's advocacy on the issue continues, the association has developed a number of resources to assist credit unions as they begin preparing for implementation in case an exemption is not obtained.
In addition to a new resource page to help credit unions stay informed on the issue, the NAFCU CFO Network — an exclusive member-only online community for credit union CFOs — has ongoing discussions about how credit unions are addressing CECL issues. NAFCU's in-house experts provide insight and guidance in these threads as well.
As a result of NAFCU's efforts, some flexibility in the standard has been achieved: FASB issued a final update in November 2018 to clarify the effective date for its CECL standard, making clear that most credit unions would not need to begin reporting data on call reports until the beginning of 2022. Until that update, credit unions were expecting a compliance deadline for fiscal years beginning after Dec. 15, 2020. The update also clarified that operating lease receivables are not covered within the scope of CECL — a clarification welcomed by our industry.
The association continues to monitor for additional actions that will provide credit unions with relief.
Our efforts on CECL to date have made significant progress, and I am confident we will see even more.
From the May-June 2019 edition of The NAFCU Journal magazine.