November 06, 2020
4 non-election things to know this week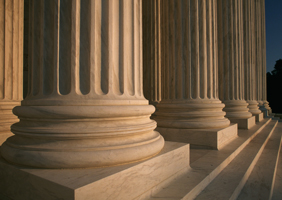 The 2020 elections dominated news coverage this week – and will likely continue to do so as votes in a handful of states are still being counted and potentially challenged – but there are a few non-election items that credit unions should be aware of. Here's a roundup of what you might've missed.
DOJ lawsuit stalls Visa acquisition of fintech company
The Department of Justice (DOJ) Thursday filed an antitrust lawsuit against Visa to block its acquisition of fintech company Plaid. Visa announced the deal – with a purchase price of $5.3 billion – in January, touting the importance of "connectivity between financial institutions and developers…to facilitate consumers' ability to use fintech applications."
In its lawsuit, the DOJ argued that "Visa seeks to buy Plaid – as its CEO said – as an 'insurance policy' to neutralize a 'threat to our important US debit businesses,'" which would limit competitiveness in the online debit market.
NAFCU acknowledges the benefits fintech can have within the financial services industry. To ensure a level playing field between fintech companies and traditional financial institutions, such as credit unions, NAFCU has released a white paper that charts a path toward regulatory coordination.
Sonic faces FI-brought class action lawsuit for data breach
In 2017, Sonic Drive-In suffered a data breach that exposed the credit and debit card information of roughly 5 million customers, which was later sold on underground cybercrime sites. The U.S. District Court for the Northern District of Ohio has certified a class action lawsuit brought by financial institutions – including credit unions – to recoup costs that resulted from having to issue new cards and reimburse stolen funds.
NAFCU is a leader in calling for a national data security standard. The association was the first group after the massive 2013 Target data breach to call for a legislative solution to reform the nation's data security system, and consistently reiterates its principles for a data security standard – which include holding negligent companies accountable and ensuring consumers are made aware of breaches in a timely manner – to lawmakers.
CFPB's payday lending rule still being challenged
Earlier this week, the CFPB responded to an amended complaint against its payday lending rule, which challenges the rule's validity in light of the Supreme Court ruling earlier this year that found the bureau's director is removable by the president at-will.
The Community Financial Services Association of America (CFSA) and other trade groups, which sued the CFPB in 2018 and sought an injunction to prevent the rule's enforcement, last month amended its complaint. They argue that Director Kathy Kraninger's ratification of the revised final rule violates the U.S. Constitution and Administrative Procedures Act (APA).
The bureau, in response, argued that the Supreme Court decision did not take away the CFPB's authority to promulgate rules and the payday rule's ratification is valid under common law. There have also been two other lawsuits filed against the revised final rule.
NCUA hosting webinars on fair lending, servicemember financial literacy
In addition to its webinar on Nov. 16 to review payday alternative loans (PALs) and short-term lending options, the NCUA is hosting two additional webinars that week: Nov. 17 on fair lending and consumer compliance issues, and Nov. 18 to share financial literacy resources and an overview of consumer financial protection laws and regulations for servicemembers and their families.
All three webinars are part of the NCUA's recently announced financial inclusion initiative, Advancing Communities through Credit, Education, Stability, and Support (ACCESS).
During the fair lending webinar – slated to begin at 3 p.m. Eastern Nov. 17 – staff from the NCUA's Office of Consumer Financial Protection will discuss the focus areas for the agency's consumer compliance exams in 2021, including a review of COVID-19-related loan modifications and credit reporting, and fair lending policies and procedures. The discussion will also include the findings from the 2020 consumer compliance exam reviews. Registration is available here and questions can be submitted in advance.
During the webinar for servicemembers – set to begin at 2 p.m. Eastern Nov. 18 and hosted in conjunction with the CFPB – the NCUA's Office of Consumer Financial Protection will share financial literacy resources for servicemembers and their families on MyCreditUnion.gov, and provide a brief overview of servicemember consumer financial protection laws and regulations. The CFPB's Office of Servicemember Affairs will highlight their interactive learning tools and resources for servicemembers and their families. Registration is available here and questions can be submitted in advance.
Related Resources
---
Get daily updates.
Subscribe to NAFCU today.