April 09, 2021
4 things to know this week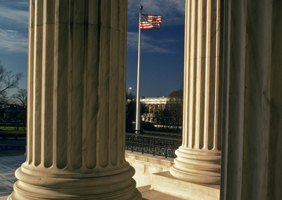 NAFCU's widely-read NAFCU Today is credit union leaders' go-to source for the latest on issues impacting the credit union industry. For those short on time, here's a roundup of this week's top need-to-know news, including NAFCU's efforts to establish a level playing field between fintech banks and credit unions, a look at consumers' perspectives on housing as an investment and how people are spending economic impact payments (EIPs) from the Federal Reserve Bank of New York, and more.
ICYMI: NAFCU leads efforts to properly regulate fintechs
NAFCU released a new video – in coordination with an op-ed from NAFCU President and CEO Dan Berger and a new issue advocacy page – to alert policymakers and consumers to the growing issue of financial technology companies applying to become a bank or acquiring a bank.
The association believes it is imperative that regulators and lawmakers provide greater legal clarity and a playing field that serves highly regulated institutions like credit unions just as well as nonbank, fintech companies. NAFCU is leading efforts with regulators and lawmakers to ensure these issues are addressed and recently wrote to the CFPB, the Office of the Comptroller of the Currency (OCC), and the House Financial Services and Energy and Commerce Committees on this topic. In addition, the association has created a new resource to break down four examples of potential "chartering schemes" used to acquire a bank charter, along with several legislative recommendations that will facilitate a level playing field.
NAFCU, FI trades flag EIP technical issues
NAFCU joined with several other financial industry trade groups Thursday to flag for the IRS technical issues with processing EIPs. The groups offered three recommendations to promptly update the agency's Get My Payment portal with information about the status of payments, accept bank routing information for EIPs to reduce reliance on paper checks, and providing a disclosure that financial institutions do not have access to recipients' information on the portal.
NAFCU and industry trade groups previously asked for additional clarity regarding processing electronic and paper check transactions to ensure credit unions and other financial institutions have the resources and guidance needed to efficiently get funds to consumers. A NAFCU Compliance Blog from earlier this year outlined some considerations for credit unions processing EIP checks to help address potential issues.
NAFCU has been actively engaged on EIP issues, ranging from meeting with the CFPB to calling on Congress and the Treasury Department to protect the payments from garnishment to sharing how credit unions worked to get members their funds.
Consumers' views on housing, EIPs
NAFCU Chief Economist and Vice President of Research Curt Long flagged recent Liberty Street Economics blogs from the Federal Reserve Bank of New York looking at whether people view housing as a good investment and how consumers are using their EIPs. Both blogs use new data from the Survey of Consumer Expectations.
The blog on housing as an investment looks at whether people would advise a young couple to put a down-payment sized gift toward a house or the stock market. The question is framed two ways in the survey: One indicating it would be the couple's primary residence and the other indicating it would be a rental property. Survey respondents were much more likely to recommend putting the money toward a down payment if it was for a primary residence, but were closer split – though still favored the house – for a rental property. Compared to pre-COVID responses, respondents this year were more likely to cite higher house prices and lower volatility as their reasoning.
In the blog on EIP spending, each of the three round of payments saw similar breakdown between spending (ranging from 29.2-24.7 percent), saving (36.4-41.6 percent), and paying down debt (34.5-33.7 percent). The blog concludes that "[a]s the economy reopens and fear and uncertainty recede, the high levels of saving should facilitate more spending in the future. However, a great deal of uncertainty and discussion exists about the pace of this spending increase and the extent of pent-up demand."
533M Facebook users have info leaked
More than 500 million people – including more than 32 million U.S. users – have had their phone numbers and personal data posted on a hacking forum. The data – containing phone numbers, Facebook IDs, full names, locations, birthdates, bios, and some email addresses – was obtained from scaping Facebook data before the company patched a vulnerability in 2019.
A new KrebsOnSecurity article highlights an online project that allows consumers to enter their mobile number to see if their information was exposed. Krebs also flags how bad actors could use pieces of this information to gain access to social media accounts, access SMS messages, or commit impersonation and other fraud.
Relatedly, the Fed this week released an industry-recommended definition of synthetic identity fraud and outlined elements that can be used to create a synthetic identity. Many of the Facebook-exposed data are considered supplemental elements, which can help substantiate or enhance validity of an identity.
Related Resources
Accounts Operations
Blog Post
---
Get daily updates.
Subscribe to NAFCU today.