November 08, 2019
5 things CU leaders need to know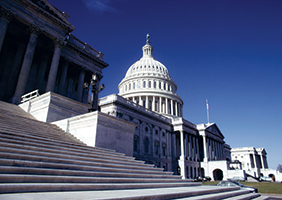 NAFCU's widely-read NAFCU Today is credit union leaders' go-to source for the latest on issues impacting the credit union industry. For those short on time, here's a roundup of this week's need-to-know news bits:
NDAA inches toward finish line.
Following Senate Armed Services Committee Chairman Jim Inhofe's, R-Okla., proposal for a "skinny" version of the fiscal year 2020 National Defense Authorization Act (NDAA), his House colleague offered another alternative.
While full details of House Armed Services Committee Chairman Adam Smith's, D-Wash., counteroffer haven't been released, it likely does not contain the credit union-opposed provision that would extend nominal leases on military bases to for-profit banks, which was included in the Senate-passed version of the bill but not the House's.
Despite disagreements on some areas of funding, Inhofe said deliberations are moving toward the end and expects to pass the bill before the end of the year.
The real cost of the credit union tax exemption.
The Treasury Department released new budget estimates that reduce the cost of the industry's tax exemption. In addition, the report showed that there are at least 50 other tax exemptions that cost the government more than the credit union exemption does.
Between 2020 and 2029, the exemption is estimated to cost $21.88 billion – down almost $3 billion from estimates released earlier this year. A NAFCU-commissioned study has shown that the credit union tax exemption provides $16 billion in economic growth per year and eliminating it would result in the loss of 900,000 jobs over the next decade, a shrinking of the GDP, and a net loss of revenue to the federal government.
On the other hand,  banks gained $28.8 billion in corporate tax cuts from the Tax Cuts and Jobs Act of 2018, according to the FDIC, and their Subchapter S status has resulted in almost $2 billion in tax savings per year.
Government shutdown for the holidays?
While current federal government funding is set to expire Nov. 21 – just before Thanksgiving – lawmakers continue to work on a potential short-term continuing resolution as well as longer-term spending bills. Earlier this week, President Donald Trump indicated he would support a short-term bill that would push the funding deadline into mid-December.
A similar situation happened last year, which resulted in a 35-day partial government shutdown spanning from Dec. 21 to Jan. 25. Scores of credit unions offered assistance to federal employees and personnel impacted by the shutdown as soon as it began, and NAFCU shared with lawmakers the exceptional efforts credit unions displayed. The association launched a grassroots campaign and joined with hundreds of other trade groups to let lawmakers know how Americans were impacted by the shutdown.
Jury: Wells Fargo to pay $200M for remote deposit capture (RDC) infringement.
After just a few days of trial, a jury in Texas determined that Wells Fargo had intentionally infringed on USAA's mobile RDC patents. The decision resulted in $200 million in damages paid by Wells Fargo to USAA. 
In 2017, USAA asked financial institutions to license its RDC technology; other RDC vendors require the same. A number of credit unions reported in early 2018 that they had received letters from a firm alleging that the credit union's RDC function infringed on USAA's patents. NAFCU has a Compliance Blog post that details steps credit unions that receive such a letter can take and will monitor for any implications stemming from this jury trial.
Lawmakers want to cap high-interest payday loans.
While the CFPB reviews its rules surrounding payday lending, a bipartisan group of lawmakers is preparing to introduce legislation that would put a cap on interest rates for such loans. Opponents of the legislation say it would cut off access to credit for 150 million Americans.
One solution is the NCUA's payday alternatives loan (PALs) program, which the agency recently expanded and allows credit unions to offer safe, affordable short-term, small-dollar loans. NAFCU continues to advocate for more flexible parameters so credit unions can develop a program that best meets their members' needs, and has encouraged the CFPB to extend its payday rule safe harbor to cover all future iterations of PALs.
Subscribe to NAFCU Today to get the biggest news stories in your inbox every morning.
Related Resources
---
Get daily updates.
Subscribe to NAFCU today.