September 24, 2021
5 things to know this week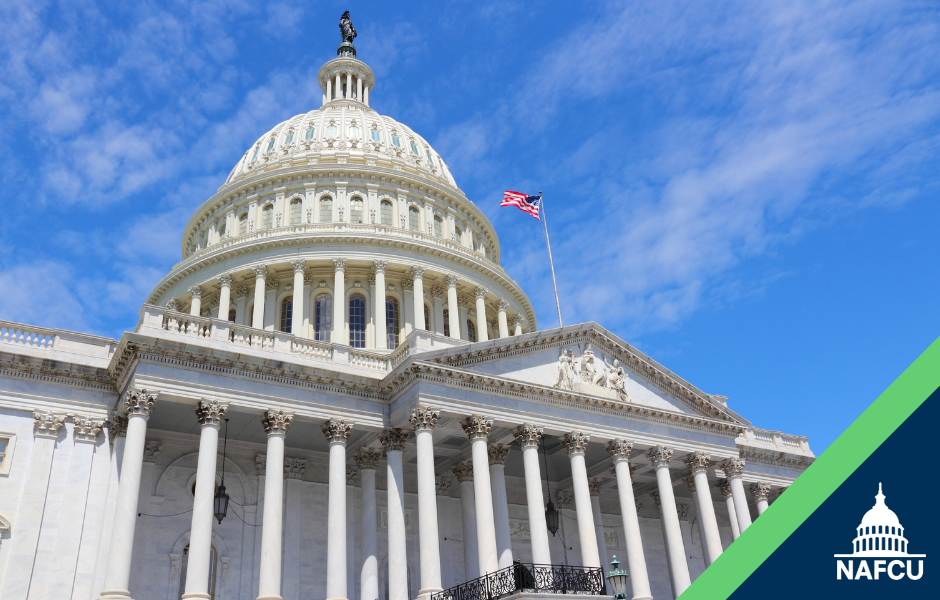 NAFCU's widely-read NAFCU Today is credit union leaders' go-to source for the latest on issues impacting the credit union industry. For those short on time, here's a roundup of this week's top need-to-know updates and resources.
OFAC designates virtual currency exchange; FinCen releases ANPR
The Treasury Department's Office of Foreign Assets Control (OFAC) announced that it has designated a virtual currency exchange for sanctions to address the escalating shared threat from criminal ransomware networks. In addition, the Treasury also released an updated Advisory on sanction risks for facilitating ransomware payments.
The Advisory includes potential risks associated with making and facilitating ransomware payments, information on contacting relevant government agencies, and mentions that a mitigating factor in any enforcement action includes adopting or improving cybersecurity practices, including those highlighted in CISA's 2020 ransomware guide.
In addition, the Financial Crimes Enforcement Network (FinCEN) released an Advance Notice of Proposed Rulemaking (ANPR) related to the implementation of amendments to the Bank Secrecy Act regarding the trade in antiquities. This includes persons engaged in the trade of antiquities in the definition of "financial institution" – to which FinCEN released guidance back in March 2021. 
OCC Comptroller nominated by Biden
President Biden has chosen Cornell Law professor Saule Omarova to lead the Office of the Comptroller of the Currency, the regulator overseeing the largest U.S. banks. If confirmed, Omarova would be the first woman to serve the as the comptroller of the OCC. The Biden administration previously dropped two nominations; Omarova's nomination will need Senate confirmation. NAFCU will continue monitoring the nomination process and will update members via NAFCU Today.
CFPB sues software company
The CFPB Monday sued Credit Repair Cloud, a software company, for allegedly violating the Telemarketing Sales Rule (TSR) and the Consumer Financial Protection Act of 2010 (CFPA) by providing substantial support to credit-repair businesses that use telemarketing and charge unlawful advance fees to consumers.
The CFPB seeks restitution with this lawsuit, including "relief for the harmed consumers from the company, disgorgement of their unjust gains, an injunction to stop their illegal contact, and civil penalties."
"Credit Repair Cloud and Rosen have been breaking the law," said Acting CFPB Director Dave Uejio.
Treasury seeks to issue nearly all electronic payments by 2030 
In an annual letter to Chief Financial Officers written by the Treasury Department's Bureau of Fiscal Service, Commissioner Tim Gribben writes that the bureau plans to "deliver 99% of eligible Treasury-disbursed payments electronically by 2030." The bureau made substantial progress delivering more payments electronically over the past decade and believe this move will help modernize the bureau's way of doing business.
Additionally, Gribben mentioned that the bureau is looking for ways to include digital payments, like Venmo, as options to get government-issued payments out to the public quickly and securely.
Freddie Mac identifies home appraisals discrimination
Freddie Mac released a new research study that is "perhaps the most comprehensive look yet at racial disparities in home appraisals," according to The Wall Street Journal. The research is based on 12 million appraisal records on purchase transactions submitted to Freddie Mac between 2015 and 2020.
According to the study, homes in Black and Latino neighborhoods appraise for less than their agreed-upon purchase price more often than in white areas. Specifically, about 15.4% of single-family properties in majority-Latino census tracts and 12.5% of homes in majority-Black areas appraised lower than their contracted price between 2015 and 2020. The rate in white neighborhoods was 7.4%.
At NAFCU's Congressional Caucus held earlier this month, Department of Housing and Urban Development (HUD) Deputy Secretary Adrianne Todman discussed the unfairness of nationwide appraisal discrimination, specifically for people of color and people in underserved communities, and mentioned President Biden's recently announced Property Appraisal and Valuation Equity (PAVE) task force charged with addressing this issue.
Related Resources
Add to Calendar 2021-10-21 14:00:00 2021-10-21 14:00:00 FFIEC IT Examination Handbook Update - Deconstructing the Architecture, Infrastructure & Operations Booklet If you have ever wanted to know what's new in the Federal Financial Institutions Examination Council (FFIEC) IT Examination Handbook, this is the session for you.  In this webinar we will deconstruct the Architecture, Infrastructure & Operations (AIO) booklet by comparing the AIO booklet to the Operations booklet which it replaces. We dig into what's new to AIO, including how the principles, design and content could impact your credit union during future IT exams. If you are a CISO, ISO, responsible for IT governance, or just want to stay on top of changes to IT regulatory guidelines, this session is for you. Key Takeaways Discover the key differences between the AIO booklet and the Operations booklet it replaces. Identify new principles in the AIO booklet as they relate to IT safety and soundness. Compare and contrast principles and concepts that overlap with the IT Security booklet. Review ideas on how to implement the AIO into your credit union's Information Security Program. Purchase Now$295 Members | $395 Nonmembers (Additional $50 for CD)One registration gives your entire team access to the live webinar and on-demand recording until October 21, 2022.Go to the Online Training Center to access the webinar after purchase » Who Should Attend? NAFCU Certified Compliance Officers (NCCOs) NAFCU Certified Risk Managers (NCRMS) Chief Executive Officers Chief Financial Officers Chief Information Officers Chief Technology Officers Compliance, risk, and audit titles Education Credits NCRMs will receive 1.0 CEUs for participating in this webinar NCCOs will receive 1.0 CEUs for participating in this webinar CPA credit information is below; recommended 1.0 CPE credits. CPA Certification Credit Information Reviewer: Josie Collins, Associate Director of Education, NAFCU Learning Objectives:  See key takeaways Program Level: Basic Prerequisites Needed: None Advance Preparation Needed: None Delivery Method: Group Internet-Based Recommended CPE Credits: 1.0 credits Recommended Field of Study: Regulatory Ethics – Technical About Our Webinars Our webinars are streamed live from NAFCU headquarters near Washington, D.C. Your audio/video feed of the presenters includes presentation slides and downloadable handouts. You can easily submit your questions to the presenters at any time during the live broadcast, with no dialing over the phone! The audio and video stream directly through your computer. Web NAFCU digital@nafcu.org America/New_York public
Credits: NCRM, NCCO, CPE
Webinar
Strategy, FinTech, Web/Tech, Technology, Cloud Computing
preferred partner
Q2
Blog Post
---
Get daily updates.
Subscribe to NAFCU today.