October 16, 2020
5 things to know this week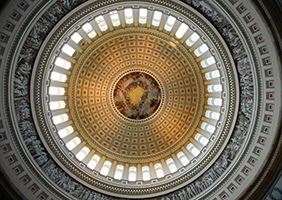 NAFCU's widely-read NAFCU Today is credit union leaders' go-to source for the latest on issues impacting the credit union industry. For those short on time, here's a roundup of this week's top need-to-know news, including where coronavirus relief efforts stand, a CFPB settlement with Nissan, a new advisory from FinCEN, Fed insights into COVID-19's impact on the financial system, and PPP fraud.
Hope fades on relief deal
After announcing last week that he wanted to wait until after the election to pursue a coronavirus relief deal, President Donald Trump seemed to change course and called for a large package. Treasury Secretary Steven Mnuchin, who has been leading the administration's negotiations with House Speaker Nancy Pelosi, D-Calif., offered a revised proposal totaling $1.8 trillion that would provide some funding for cities and states, unemployment insurance benefits, and more. However, Pelosi has indicated that it doesn't do enough.
While Senate Majority Leader Mitch McConnell, R-Ky., plans to have the chamber vote next week on a targeted relief bill that has provisions provide new funding for the paycheck protection program (PPP), additional PPP loan forgiveness simplification, boosted unemployment benefits, and liability protections, the House is not expected to consider it.
Thursday's Politico Playbook indicates fading hope that a deal will be reached and agreed to before the election. It further outlines how election results could impact whether additional relief is provided during the lame duck session, or if it's pushed to 2021.
NAFCU will continue to monitor discussions on Capitol Hill and push for credit union priorities to be included in the next relief package.
Nissan's illegal collections and repo practices
The CFPB announced this week that it has reached a settlement with Nissan's auto financing subsidiary – Nissan Motor Acceptance Corporation (MAC) – for illegal collections and repossession practices. In the consent order, the bureau said it had found that Nissan and its agents had:
wrongfully repossessed vehicles;
kept personal property in consumers' repossessed vehicles until consumers paid a storage fee;
deprived consumers paying by phone of the ability to select payment options with significantly lower fees; and
in its loan extension agreements, made a deceptive statement that appeared to limit consumers' bankruptcy protections.
Nissan is required to pay up to $1 million of cash redress to consumers subject to wrongful repossession, credit any outstanding account charges associated with a wrongful repossession, and pay a civil money penalty of $4 million. Last year, the Department of Justice fined Nissan MAC $3 million for violating the Servicemembers Civil Relief Act.
FinCEN issues advisory on human trafficking
The Financial Crimes Enforcement Network (FinCEN) issued a supplemental advisory on identifying and reporting human trafficking and related activity – expanding upon its 2014 advisory to address newly identified typologies and red flag indicators. The supplemental advisory notes that "transactions involving proceeds generated by human trafficking can be the basis for federal criminal charges and asset forfeiture, as human trafficking and associated crimes constitute specified unlawful activities for the crime of money laundering."
In addition, the new advisory flags that the coronavirus pandemic "can exacerbate the conditions that contribute to human trafficking, as the support structures for potential victims collapse, and traffickers target those most impacted and vulnerable.
Read more about the new typologies and red flags here.
Fed's Quarles talks COVID-19 stress
Federal Reserve Vice Chair for Supervision Randal Quarles explored the coronavirus pandemic's impact on the financial system and lessons learned during a speech Thursday for the Institute of International Finance. Quarles noted that before the pandemic hit, "the U.S. economy was in vibrant good health." However, shortly after the World Health Organization (WHO) declared COVID-19 a global pandemic, "we saw serious strains in several financial markets" as corporations and financial firms sought to protect against risks, including by tightening lending standards and pulling back from commercial paper markets.
Quarles highlighted the Fed's emergency actions to support liquidity in markets and how its intervention allowed a "fairly rapid return to stable market function." Three lessons learned:
several short-term funding markets proved fragile and needed support – the commercial paper market and prime and tax-exempt money market funds, as key examples;
the Treasury market is not immune to the problems of short-term and dollar funding markets; and
the regulatory framework for banks constructed after the 2008 global financial crisis, with the refinements and recalibrations we have made over the last few years, held up well.
Texas man charged in $24M PPP fraud
A Texas man has been charged with filing 15 fraudulent loan applications under the paycheck protection program (PPP) seeking $24.8 million. The applications were submitted to eight different Small Business Administration (SBA)-approved lenders using various businesses names, some of which were created after the CARES Act was enacted. The man received $17.7 million of the requested fund through the PPP and used them for personal expenses, including a 2020 Bentley convertible and other personal expenses. The government has recouped roughly $6.5 million of the fraudulent funds.
Following a recent report on PPP fraud from the House Select Subcommittee on the Coronavirus Pandemic, the Justice Department announced that it has identified almost 500 people suspected of coronavirus-related loan fraud, has several hundred investigations open, and has criminally charged 50 people for PPP fraud.
Related Resources
---
Get daily updates.
Subscribe to NAFCU today.