June 21, 2019
A.C. addresses cyber challenges facing CUs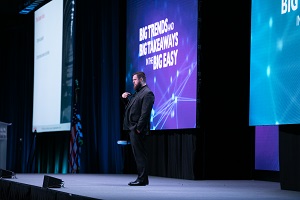 From the dark web to cyberattacks to talent gaps, sessions at NAFCU's Annual Conference Thursday addressed a number of challenges facing credit unions on the cyber and technology front.
Kicking off the morning, Matthew Heath from Worldpay brought awareness to the dark web, including how to access it, what's available on it and who uses it. He described the internet as an iceberg of three components: the internet (searchable web), the deep web (which puts content behind a barrier like a password) and the dark web (content visible only with specialized tools).
Heath also took attendees through "A Day in the Life of a Cyber Criminal" and explained the various channels cybercriminals use to communicate with each other. Noting that efforts against cybercrime have become more proactive than they used to be, he said researchers of cybercrime explore these platforms to better understand the capabilities, search for information that's been compromised and then use that knowledge to better predict a criminal's actions.
Here are other sessions that discussed credit unions' cyber challenges:
What Keeps CUs Up at Night Regarding Technology and Security: DefenseStorm sponsored this panel discussion featuring tech officers from credit unions: Ed Cervantes from IBM Southeast Employee Credit Union, Tracy Deans from State Employees' Credit Union and Sherry Wu from University of Michigan Credit Union and moderated by David Faleski from Coastal Federal Credit Union. The group shared challenges they're currently facing and some solutions to tackle the obstacles.
Preparing for Next-Gen Cyber Attacks: DefenseStorm's Steve Soukup looked at the odds of experiencing a cyberattack, increased regulatory pressures to beef up security and how boards of directors should be involved.
Identifying Technology Talent Gaps: As tech becomes a larger focus regardless of industry, employees with these skills are a hot commodity. A panel featuring Jason Greco from CAP COM Federal Credit Union, Brad Kelly from Elements Financial Federal Credit Union and Melanie Walsh from BECU moderated by James Robert Lay from Digital Growth Institute discussed how credit unions can identify needs and attract employees to fill those gaps.
NAFCU's Annual Conference and Solutions Expo, sponsored by Mastercard, concludes today. For up-to-date coverage of the conference, follow #NAFCUAnnual on Twitter.
Next year's event is scheduled June 23-26 in Vancouver; register now and save $200 with code VANCOUVER. Code expires July 19.
Related Resources
Add to Calendar 2019-12-04 14:00:00 2019-12-04 14:00:00 Seeing Fraud in 2020 – Strategies to Prevent It About the Webinar  Looking Back at What Types of Fraud Topped 2019 and What's Ahead in 2020 During this webinar, industry experts Tammy Behnke and Ann Davidson will look into their "Fraud Crystal Ball" to provide fraud prevention tips for 2020 and beyond. This webinar will focus on: Fraud losses reported from both the Bond and credit union's perspectives in 2019 Strategies, parameters and layers credit unions can leverage to help detect, prevent, and mitigate fraud in 2020 Watch the Webinar On-Demand Web NAFCU digital@nafcu.org America/New_York public
webinar
preferred partner
Allied Solutions
---
Get daily updates.
Subscribe to NAFCU today.