June 15, 2018
Berger urges CFPB action to aid CUs' S. 2155 compliance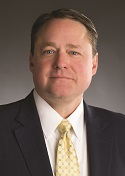 NAFCU President and CEO Dan Berger shared a list of recommended regulatory actions with CFPB Acting Director Mick Mulvaney in a hand-delivered letter Thursday that should be pursued in light of the recent enactment of the NAFCU-backed Economic Growth, Regulatory Relief, and Consumer Protection Act (S. 2155).
These actions would provide credit unions with much-needed clarity and certainty regarding the compliance impact of S. 2155's provisions, Berger explained.
Changes highlighted by Berger concern: the Truth in Lending Act (TILA), the Home Mortgage Disclosure Act (HMDA) and the Fair Credit Reporting Act (FCRA). Berger detailed each change in a section-by-section analysis in his letter.
"As the Bureau crafts its interpretation of the Act's provisions, it should ensure that any new conforming regulations account for the unique nature of credit unions and do not impose undue burden on the industry," he wrote.
More specifically, Berger's suggestions include that the bureau:
issue guidance to credit unions that expands upon the law's qualifications for the addition of minimum standards for residential mortgage loans in TILA;
amend its transactional thresholds under Regulation C to achieve parity with the exemption contained in law's HMDA adjustment and study;
provide additional information on the escrow requirements in S. 2155 relating to certain consumer credit transactions in TILA;
apply the "no wait for lower mortgage rates" provision that S. 2155 added to TILA to all residential mortgage loans;
make additional rulemakings, as necessary, to amend Regulation V to conform to the law's "protecting consumers' credit" and "protecting veterans' credit" changes added to the FCRA;
provide credit unions with the training criteria necessary to comply with the requirements of S. 2155 regarding the disclosure of financial exploitation of senior citizens;
implement regulations and guidance so credit unions are informed of the regulatory expectations of the law's property assessed clean energy financing changes; and
issue guidance to clarify what constitutes a "reasonable timeframe" under the law regarding various protections in the event of death or bankruptcy of a student loan borrower or cosigner.
NAFCU has resources available to credit unions on S. 2155, including a recent Compliance Blog post that covers many of the questions the association's compliance team has received related to the law. NAFCU also has available a new summary chart that includes effective dates for some of the statute's provisions.
Related Resources
---
Get daily updates.
Subscribe to NAFCU today.