October 09, 2019
Consumer credit continues to rise in August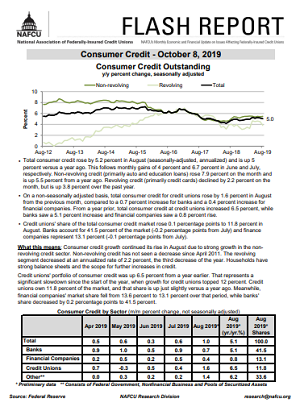 Total consumer credit rose 5.2 percent in August (seasonally-adjusted, annualized) and is up 5 percent versus a year ago. NAFCU Chief Economist and Vice President of Research Curt Long credited these results to "strong growth in the non-revolving credit-sector."
"Non-revolving credit has not seen a decrease since April 2011," said Long in a NAFCU Macro Data Flash report. "The revolving segment decreased at an annualized rate of 2.2 percent, the third decrease of the year. Households have strong balance sheets and the scope for further increases in credit."
Total consumer credit for credit unions increased 1.6 percent in August from the previous month, compared to a 0.7 percent increase for banks and a 0.4 increase for financial companies. From a year prior, total consumer credit at credit unions rose 6.5 percent, while banks saw a 5.1 percent increase and financial companies saw a 0.8 percent increase.
Credit unions now own 11.8 percent of the market, up just slightly from a year ago. Meanwhile, financial companies' market share fell from 13.6 percent to 13.1 percent over that period, while banks' share decreased 0.2 percent to 41.5 percent.
Related Resources
---
Get daily updates.
Subscribe to NAFCU today.