March 10, 2020
Consumer credit falls in January; NAFCU expects extended decline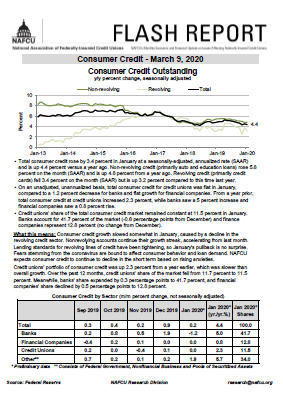 "Lending standards for revolving lines of credit have been tightening, so January's pullback is no surprise," said NAFCU Chief Economist and Vice President of Research Curt Long following the release of data that revealed total consumer credit rose 3.4 percent in January (seasonally-adjusted, annualized) and is up 4.4 percent versus a year ago.
Non-revolving credit continued its growth streak and rose 5.8 percent, up 4.8 percent from a year ago. However, revolving credit dropped 3.4 percent.
"Fears stemming from the coronavirus are bound to affect consumer behavior and loan demand," said Long in a NAFCU Macro Data Flash report. "NAFCU expects consumer credit to continue to decline in the short term based on rising anxieties."
Total consumer credit for credit unions and financial companies were "flat" in January, compared to a 1.2 percent decrease for banks. From a year prior, total consumer credit at credit unions rose 2.3 percent, while banks saw a 5 percent increase and financial companies grew 2.3 percent.
Credit unions' share of the market remained at 11.5 percent, up 2.3 percent from a year earlier but slower than overall growth. Meanwhile, banks' share grew 0.3 percentage points to 41.7 percent, and financial companies' share remained unchanged at 12.8 percent.
Related Resources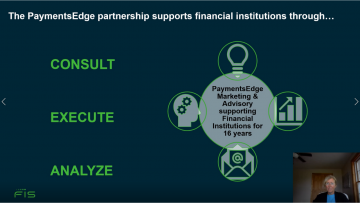 preferred partner
FIS
Video
Fraud, Credit Cards
preferred partner
Allied Solutions
Blog Post
Consumer Lending
Blog Post
---
Get daily updates.
Subscribe to NAFCU today.