February 11, 2020
Consumer credit rises due to revolving credit boost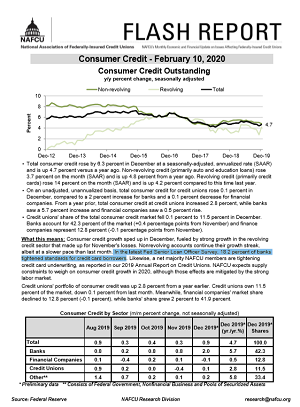 A NAFCU Macro Data Flash report highlights new data from the Federal Reserve showing total consumer credit rose at a seasonally-adjusted, annualized rate of 6.3 percent in December and is up 4.5 percent from a year ago.
"Consumer credit growth sped up in December, fueled by strong growth in the revolving credit sector that made up for November's losses," NAFCU Chief Economist and Vice President of Research Curt Long said.
Revolving credit, which is primarily credit cards, rose 14 percent during the month, up 4.2 percent compared to this time last year. Non-revolving credit, which is primarily auto and education loans, grew 3.7 percent.
"In the latest Fed Senior Loan Officer Survey, 18.2 percent of banks tightened standards for credit card borrowers," Long added. "NAFCU expects supply constraints to weigh on consumer credit growth in 2020, although those effects are mitigated by the strong labor market."
Total consumer credit for credit unions rose 0.1 percent in December from the previous month, compared to a 2 percent increase for banks and a 0.1 percent increase for financial companies. From a year prior, total consumer credit at credit unions increased 2.8 percent while banks and financial companies saw increases of 5.7 percent and 0.5 percent, respectively.
Credit unions now own 11.5 percent of the market, down slightly from the previous month. Meanwhile, financial companies' market share declined to 12.8 percent, while banks' share rose slightly to 41.9 percent.
Related Resources
Examination & Enforcement
Blog Post
Add to Calendar 2021-12-07 14:00:00 2021-12-07 14:00:00 Protect your CU: Building a Secure Cloud Infrastructure About the Webinar Moving to the cloud saves time, upskills resources, and reduces costs. Most importantly, it makes infrastructure more secure and automates security checks and monitoring. With increases in ransomware scares and other security concerns, financial institutions are leaning on the cloud to better provision for these threats. Join AWS, Think|Stack, and ALPS Federal Credit Union to learn more about how you can build security protocols into your infrastructure and mitigate risks by migrating to the cloud. Watch the Webinar Web NAFCU digital@nafcu.org America/New_York public
preferred partner
Amazon Web Services
Webinar
---
Get daily updates.
Subscribe to NAFCU today.