April 10, 2018
Credit card spending should soon boost overall consumer credit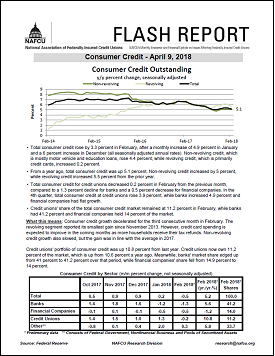 While total consumer credit rose 3.3 percent in February, its growth decelerated for the third consecutive month. However, NAFCU Chief Economist and Vice President of Research Curt Long said credit card spending is expected to improve in the coming months as households receive their tax refunds.
Total consumer credit increased 4.9 percent in January and 6 percent in December (all seasonally adjusted annual rates). From a year ago, total consumer credit was up 5.1 percent.
Non-revolving credit, which is mostly motor vehicle and education loans, rose 4.4 percent, while revolving credit, which is primarily credit cards, increased 0.2 percent. From last year, non-revolving credit increased 5 percent, while revolving credit increased 5.5 percent.
"The revolving segment reported its smallest gain since November 2013," Long said in a NAFCU Macro Data Flash report Monday. "Non-revolving credit growth also slowed, but the gain was in line with the average in 2017."
Regarding the credit union industry, its total consumer credit decreased 0.2 percent in February from the previous month, compared to a 1.3 percent decline for banks and a 0.5 percent decrease for financial companies.
Credit unions' share of the total consumer credit market remained at 11.2 percent in February – up from last year's 10.8 percent. Banks had 41.2 percent and financial companies held 14 percent of the market in February.
Get daily updates.
Subscribe to NAFCU today.