June 07, 2019
CU industry surpasses 117M members, $1.5T in assets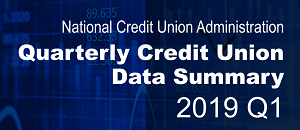 Membership at federally insured credit unions surpassed 117 million in the first quarter of 2019, adding 1.1 million members so far this year. In addition, assets grew $90 billion over the year resulting in $1.51 trillion in total assets.
"Thanks to their relentless focus on their members, the nation's credit unions now count nearly half of the adult population among their ranks," said NAFCU Chief Economist and Vice President of Research Curt Long. "We will continue to advocate for more regulatory relief so credit unions can better serve the needs of everyday Americans."
Here are highlights of the NCUA's 2019 first-quarter call report data:
membership in federally insured credit unions rose 4.1 percent over the year;
assets grew 6.3 percent to $1.51 trillion, up from $1.42 trillion a year ago;
loans outstanding increased 7.9 percent to $1 trillion, up from $972 billion a year ago;
deposits (shares) grew 5.5 percent to $1.19 trillion, up from $1.13 trillion a year ago; and
the credit union system's net worth ratio was 11.14 percent, up from 10.89 percent last year.
Related Resources
---
Get daily updates.
Subscribe to NAFCU today.