March 13, 2019
CU reg burden under CFPB cited in Senate hearing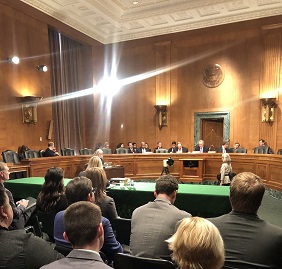 Sen. Tim Scott, R-S.C., during a Senate Banking Committee hearing Tuesday with CFPB Director Kathy Kraninger, specifically noted the regulatory burden credit unions face under the bureau. NAFCU has long argued that credit unions should not be regulated by the bureau and has encouraged Kraninger to use its exemption authority to excuse credit unions from certain rulemakings.
Scott went on to note credit unions' unique structure and that they provide safe, affordable financial products and services but struggle with one-size-fits-all regulation. Kraninger said the bureau is working to address outdated regulations and reduce credit unions' regulatory burden.
Kraninger was delivering the bureau's semiannual report to Congress. She testified before the House Financial Services Committee last week and also discussed a number of credit union issues, including the bureau's enforcement authority under the Military Lending Act which was also discussed with the Senate panel.
During her opening statement, Kraninger explained the bureau's recent proposals related to its 2017 payday lending rule and the need for consumers to have the information necessary to make the best decision for them. She also received a number of questions from senators on the issue. NAFCU is supportive of delaying the rule and has also asked the bureau to expand the rule's safe harbor as the NCUA seeks to enhance its payday alternative loans (PALS) program.
Also discussed during the hearing were the bureau's data collection efforts. NAFCU has recommended the bureau scale back existing data collections, limit access to personally identifiable information and reconsider which data are made public.
Last week, NAFCU President and CEO Dan Berger met with Kraninger to discuss the bureau's rulemaking initiatives and share how the bureau could reduce credit unions' regulatory burden. Berger has communicated credit unions' concerns and priorities with Kraninger since she was confirmed as director in December: Following Kraninger's confirmation, NAFCU hand delivered a letter with bureau-specific priorities, and Kraninger followed up on the letter with a call to Berger to further discuss credit union priorities. NAFCU also attended a financial services industry roundtable with Kraninger in January.
Related Resources
---
Get daily updates.
Subscribe to NAFCU today.