September 27, 2019
CUs: Advocate now for NDAA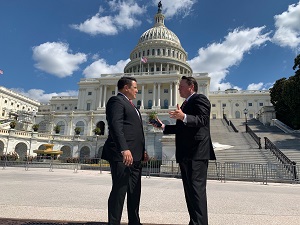 As selected members of the House and Senate work to reconcile differences in the chambers' FY2020 National Defense Authorization Act (NDAA), NAFCU President and CEO Dan Berger and Defense Credit Union Council (DCUC) President and CEO Anthony Hernandez took Capitol Hill this week to keep attention on a credit union-opposed provision that could allow big banks to receive free rent on military bases.
Lawmakers return to their home districts and states next week for a two-week recess. Credit unions are encouraged to look at the representatives and senators who are on the NDAA conference committee and reach out to their respective lawmakers to share how credit unions could be disadvantaged if the provision is included in the final bill.
A section of the Senate-passed bill would treat all banks, including large ones like Wells Fargo, the same as local, not-for-profit credit unions when it comes to nominal leases on military bases. NAFCU's advocacy kept it out of the House version. 
NAFCU last week sent a letter to conferees detailing credit unions' concerns, and the association also has a Grassroots Action Center campaign happening now that allows credit unions to contact their lawmakers directly on the issue.
NAFCU and DCUC sent a letter in August to leaders of the Senate and House Armed Services Committees – whose members comprise a large portion of the NDAA conference committee – to ensure credit unions' voices are heard.
Bolstering NAFCU's and DCUC's advocacy, a bipartisan group of more than a dozen representatives recently sent a letter to leaders of the House and Senate Armed Services Committees urging the provision's removal, noting that the Department of Defense (DoD) did not ask for it to be included and has previously opposed such changes. The letter was led by House Armed Services Subcommittee Chairwoman Jackie Speier, D-Calif.
NAFCU continues to educate lawmakers and the public on the differences between credit unions and banks, and how this NDAA provision, if enacted, would hurt the credit union industry.
Related Resources
---
Get daily updates.
Subscribe to NAFCU today.