April 16, 2018
CUs can offer feedback to NAFCU on FHFA's reg review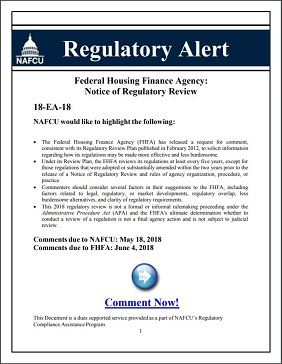 NAFCU is asking member credit unions for feedback on the Federal Housing Finance Agency's (FHFA) regulations in an attempt to improve the agency's effectiveness and reduce the regulatory burden. NAFCU made the request in a Regulatory Alert sent Friday.
The FHFA made a request for comments earlier this month as part of the agency's five-year regulatory review process. It would like public feedback on ways to reduce regulatory overlap, possible approaches that would be less burdensome than current regulation and how to clarify requirements.
In NAFCU's Regulatory Alert, the association would like feedback on whether any regulations have become inefficient, obsolete or unduly burdensome because of legal or regulatory developments, or changes in the marketplace and technology. It also asks if the FHFA needs to provide additional clarification on any regulations, and for compelling evidence to consolidate regulations to facilitate compliance.
NAFCU has previously offered feedback to the FHFA on the government-sponsored enterprises' (GSEs) housing goals for 2018-2020, as well as the agency's strategic plan for the same period, to ensure credit unions are heard and represented in the agency's regulatory strategy efforts.
Credit unions can submit feedback to NAFCU until May 18; comments are due to the FHFA on June 4.
Related Resources
---
Get daily updates.
Subscribe to NAFCU today.