August 07, 2019
CUs: Comment now on revising convicted criminal hiring regs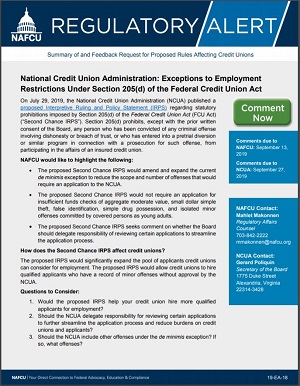 Using a new template that makes it easier for credit unions to learn about regulatory proposals and provide comments, NAFCU Tuesday sent a Regulatory Alert seeking feedback on the NCUA's proposed interpretive ruling and policy statement (IRPS) related to a section of the Federal Credit Union Act regarding convicted criminals.
The NCUA issued the IRPS during its July board meeting. NAFCU, in the Regulatory Alert, notes that it "would significantly expand the pool of applicants credit unions can consider for employment" as institutions could hire a qualified candidate who has a record of minor offenses without the NCUA's approval.
NAFCU specifically would like members' feedback on whether:
the proposed IRPS would help credit unions hire more qualified applicants;
the NCUA should delegate responsibility for reviewing certain applications to further streamline the application process and reduce burdens on credit unions and applicants; and
the NCUA should include other offenses under the de minimis exception and what those offenses should be.
See the features of the new Regulatory Alert template and review the IRPS here. Credit unions can provide comments to NAFCU until Sept. 13; comments are due to the NCUA Sept. 27.
Related Resources
---
Get daily updates.
Subscribe to NAFCU today.