May 20, 2021
Harper argues for third-party vendor authority, NCUSIF changes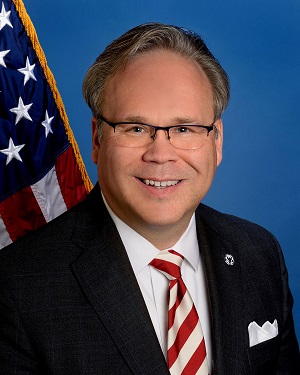 NCUA Chairman Todd Harper testified before the House Financial Services Committee Wednesday, providing lawmakers with an update on the state of the credit union industry and the agency's priorities. Ahead of the hearing, NAFCU shared its concerns about proposals looking to provide the NCUA with supervisory authority over third-party vendors and change how the agency manages the National Credit Union Share Insurance Fund (NCUSIF).
Harper, in his testimony, requested that Congress provide the agency with examination and enforcement authority over third-party vendors. NAFCU has consistently opposed granting the agency with this authority, arguing that the NCUA should focus on regulating credit unions and reducing regulatory burdens and costs rather than adding to them.
Up for consideration during the hearing was a discussion draft of legislation that would extend this authority to the NCUA. Rep. Ed Perlmutter, D-Colo., asked Harper about the authority. Harper argued that it is needed for cybersecurity, consumer protection, safety and soundness, and Bank Secrecy Act-related supervision.
Related to consumer protection, Harper also told lawmakers the agency is working to develop a consumer compliance exam program for larger credit unions and also plans to perform targeted consumer compliance exam procedures for all credit union exams.  
In addition, Harper reiterated his request that Congress make statutory changes to allow the agency more authority to make changes to the NCUSIF. Harper argued the economic impact of the pandemic, which has led to significant share growth at credit unions, has reinforced the need for more flexibility.
NAFCU has consistently voiced opposition to charging a premium this year or changing the way the NCUA manages the fund. The association wrote to leaders of the House Financial Services and Senate Banking Committees earlier this year outlining the health of the fund, including why a premium is not warranted at this time, and urging against any amendments to the Federal Credit Union (FCU) Act that would change the way the NCUA manages the NCUSIF.
Harper also responded to several questions from Committee Chairwoman Maxine Waters, D-Calif., about garnishments on economic impact payments (EIPs), post-pandemic impact on mortgage foreclosures and loan modifications, and banking deserts.
On EIPs, Harper highlighted that NAFCU and others fought to have Congress protect the payments from garnishment and that credit unions were responsive in working with their members. As COVID-relief forbearance and other relief options come to an end, he reiterated that the NCUA will support credit unions' efforts to prudently help members facing hardships. He also offered support for NAFCU-sought efforts to allow all credit unions to add underserved areas to their fields of membership (FOM) to help combat banking deserts and branch closures in rural areas.
In addition, Harper touted the benefits of credit unions' payday alternative loans (PALs) program when responding to a question from Rep. David Scott, D-Ga., on financial inclusion.
Lawmakers also discussed bank-credit union mergers (on which NAFCU continues to set the record straight), the Office of the Comptroller of the Currency's (OCC) true lender rule (of which NAFCU continues to support a repeal), fintech (for which NAFCU is fighting for a level playing field), climate change risk, the LIBOR transition, and more.
NAFCU will continue to advocate for an effective legislative and regulatory environment that allows credit unions to thrive.
Related Resources
---
Get daily updates.
Subscribe to NAFCU today.