July 02, 2019
How should NCUA address capital concerns?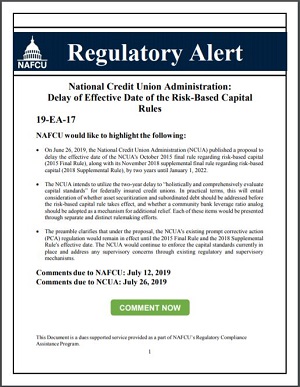 The NCUA has proposed delaying its risk-based capital (RBC) rule by two additional years – to Jan. 1, 2022 – and plans to "holistically and comprehensively evaluate capital standards" for federally insured credit unions during that time. NAFCU has led efforts to advance concerns from the industry and now seeks credit unions' feedback on how the NCUA should address and prioritize various issues as it evaluates the rule.
In a Regulatory Alert, NAFCU explains that the NCUA's review of the rule will consider whether asset securitization and subordinated debt should be addressed before the RBC rule takes effect, and whether a community bank leverage ratio analog should be adopted as a mechanism for additional relief.
To inform its comment letter, NAFCU would like to know:
if credit unions support the proposed, two-year delay of the RBC rule;
what order of priority the NCUA should address asset securitization, subordinated debt and consideration of a community bank leverage ratio analog;
if credit unions support the NCUA adopting a leverage ratio requirement as a simplified method for determining coverage under the RBC rule;
if credit unions support a community bank leverage ratio analog – similar to what has been proposed by federal banking regulators – that would provide an exemption from the RBC rule for qualifying credit unions;
if it's critical to have a subordinated debt rule in place prior to the rule taking effect; and
what type of asset securitization guidance would be most helpful for credit unions.
Credit unions can submit feedback to NAFCU through its Regulatory Alert until July 12; comments on the proposal are due to the NCUA July 26.
Read more about NAFCU's efforts to delay the RBC rule and obtain more relief for credit unions here.
Related Resources
---
Get daily updates.
Subscribe to NAFCU today.