November 15, 2021
HSFC to markup CUGMA and Fair Hiring in Banking Act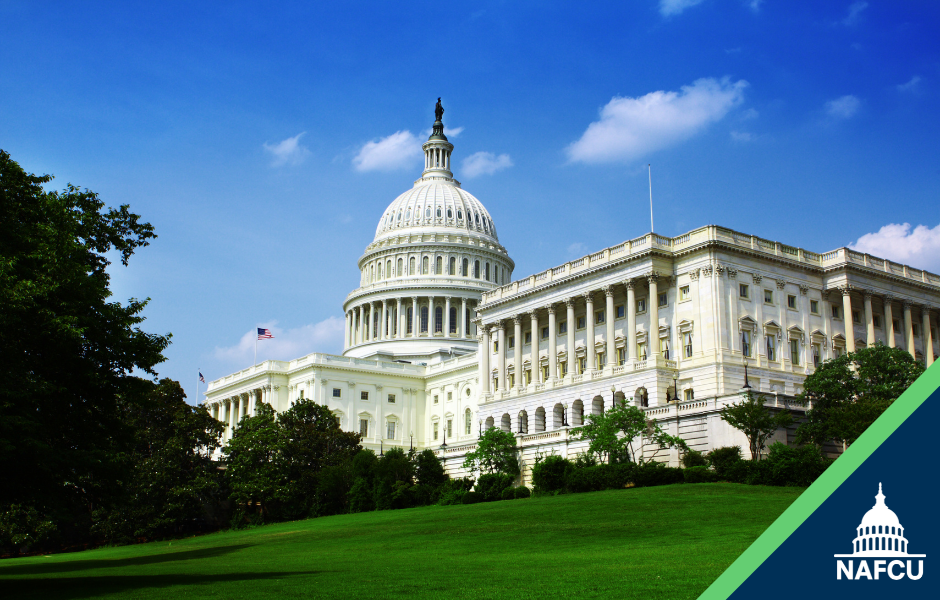 The House Financial Services Committee tomorrow will hold a hearing to markup several important bills, including the Credit Union Governance Modernization Act (CUGMA) – NAFCU-backed legislation that would advance existing language under the Federal Credit Union (FCU) Act related to expulsion in order to keep credit unions, their members, and staff safe from illicit behavior. 
"NAFCU commends the House Financial Services Committee for taking the next steps on the Credit Union Governance Modernization Act, an important piece of legislation that will keep credit unions and their members protected from abusive and disruptive behavior," commented NAFCU Vice President of Legislative Affairs Brad Thaler. "We have long advocated on behalf of this bill and worked diligently with Representatives Tom Emmer, Ed Perlmutter, and others to garner support in Congress."
The legislation would allow credit unions to adopt a streamlined expulsion policy to remove members who engage in unlawful behavior. It would also allow for an appeal process that would provide due process for the accused member. The association has consistently championed for less burdensome expulsion regulations to make it easier for credit unions to expel members who are engaging in fraudulent or disruptive activities or conducting physical or verbal abuse.
"Safeguarding credit unions and their staff from illegal or malicious activity is essential and allows credit unions to better serve their members and local communities. NAFCU remains supportive of the critical reforms included in this bill, and we will continue to work with Congress to get this through to the finish line," stated Thaler.
The Committee will also markup the House version of the Fair Hiring in Banking Act, a bill originally introduced by Senator Joe Manchin, D-W.Va. and led in the House by Rep. Joyce Beatty D-OH., that would replace a lifetime ban for those with disqualifying convictions to work in the banking sector and create an exception for criminal acts committed before the age of 21.
Of note, the Committee excluded the Overdraft Protection Act of 2021 and a proposed bill to grant NCUA vendor examination authority from its markup agenda, a positive step for the credit union industry. NAFCU has expressed opposition against the overdraft legislation, highlighting its misguided approach as well as its negative impact on credit unions that currently have courtesy pay programs in place. The association has also voiced concerns around granting the NCUA additional vendor examination authority, which would deviate the agency's focus from credit unions.
NAFCU will tune into the markup hearing and report back any important developments to credit unions.
Related Resources
Add to Calendar 2022-10-04 14:00:00 2022-10-04 14:00:00 Avoiding Pitfalls with Social Media Communications Credit unions use social media as a quick and inexpensive way to broadly reach members and prospective members. However, from member complaints to public posts containing private financial information, social media use can also open a credit union up to unexpected risk. Credit unions should actively monitor social media communications and employee/member interactions to ensure compliance with policies, platform rules and regulations. In this Avoiding Pitfalls with Social Media Communications webinar, you'll delve into the rules that govern social media activities and best practices for mitigating the risks involved. Topics covered include: a review of advertising rules, specific platform rules, the importance of a social media policy and best practices for online communications. Key Takeaways Identify and mitigate potential risks in using social media platforms Determine best practices when engaging with members online Learn necessary content for a robust social media policy   Register Now$295 Members | $395 Nonmembers(Additional $50 for USB)One registration gives your entire team access to the live webinar and on-demand recording until October 4, 2023Go to the Online Training Center to access the webinar after purchase »   Who Should Attend C-suite Marketing, communications and social media personnel NCCOs and compliance titles NCRMs and risk titles Education Credits NCCOs will receive 1.0 CEUs for participating in this webinar NCRMs will receive 1.0 CEUs for participating in this webinar NCVEs will not receive any credit for participating in the webinar NCBSOs will not receive any credit for participating in the webinar CPA Certification Credit Information (if applicable) will receive 1.0 CEUs for participating in this webinar Reviewer: Josie Collins, Senior Associate Director of Education, NAFCU Learning Objectives: See topics covered. Program Level: Basic Prerequisite Needed: None Advance Preparation Needed: None Delivery Method: Group Internet-Based Recommended CPE Credits: 1.0 Recommended Field of Study:  Communications and Marketing – Non-Technical AND Regulatory Ethics – Technical About Our Webinars Our webinars are streamed live from NAFCU headquarters near Washington, DC. Your audio/video feed of the presenters includes presentation slides and downloadable handouts. You can easily submit your questions to the presenters at any time during the live broadcast, with no dialing over the phone! The audio and video stream directly through your computer. Web NAFCU digital@nafcu.org America/New_York public
Credits: NCCO, NCRM, CPE
Webinar
Add to Calendar 2022-10-04 14:00:00 2022-10-04 14:00:00 Understanding Diversity – A Multicultural & Multigenerational Perspective: The Importance of a Multicultural Business Strategy for Credit Unions About the Webinar Having a multicultural business strategy (MCBS) is paramount for credit union leaders today. It's not just part of a sound business plan; it's the right thing to do to best serve your members. Understanding your diverse membership and communities is essential and can be achieved through a multicultural and multigenerational perspective. This webinar will share insights from CUNA Mutual Group's 2022 What Matters NowTM research report, so you can gain understanding of the diverse consumers you serve, while learning actionable tips to start or enhance your MCBS. The research report was developed with credit unions in mind and surveyed 10,000 multicultural and multigenerational participants across the country. Join us as we break down the data and insights we discovered, to help you better serve your members and communities. Watch the Webinar Web NAFCU digital@nafcu.org America/New_York public
preferred partner
CUNA Mutual Group
Webinar
Board and Governance
Blog Post
---
Get daily updates.
Subscribe to NAFCU today.