September 14, 2018
ICYMI: NAFCU leads CU news with Glass-Steagall, advocacy, elections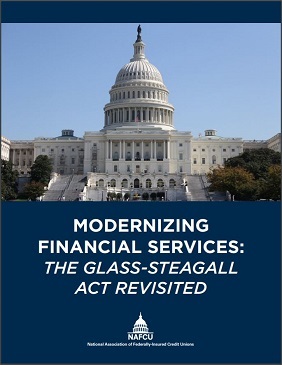 NAFCU, as credit unions' Washington Watchdog, is constantly working to bolster the industry's visibility at the national level. Over the past two weeks, the association has published three op-eds aimed at doing just that by continuing the dialogue on a modernized Glass-Steagall Act, calling for changes that allow credit unions to meet members' needs and providing tips when interacting with elected officials.
In an op-ed for The Hill, NAFCU Executive Vice President of Government Affairs and General Counsel Carrie Hunt reiterated NAFCU's call for a modernized Glass-Steagall Act. The association recently released a white paper that urged members of Congress to discuss creating a 21st century version of the act in order to protect consumers from banks that are too big to fail.
"Without Glass-Steagall, the Federal Deposit Insurance Corporation's (FDIC) insurance fund can now be used to back up big banks' risky trading activities, thereby holding American public responsible for losses," Hunt wrote. "Separating commercial and investment banking activities would make sure American taxpayers do not subsidize big banks."
Read Hunt's op-ed here; learn more about NAFCU's push for a modern Glass-Steagall here.
In an op-ed for Credit Union Times, NAFCU President and CEO Dan Berger called on credit unions to step up advocacy efforts as Congress and federal agencies trend toward regulatory relief. Berger echoed Hunt's concerns about banks' risky behaviors and highlighted credit unions' recent wins that will allow the industry to better meet consumers' needs.
"For more than 100 years, credit unions have proven they are committed to serving in the best interest of their members," Berger wrote. "This service hasn't gone unnoticed. As the reputations of big banks dwindle in the eyes of consumers and as change is on its way to Washington, there is no better time to step up our efforts."
Read Berger's op-ed here.
In an op-ed for Credit Union Journal, NAFCU Director of Political Affairs Chad Adams provided tips for engaging with current and future lawmakers, including issues and solutions credit unions should share.
"Credit unions are the poster child for safe and trustworthy consumer financial services and enjoy bipartisan support across many issues – a unique and welcomed position," Adams wrote. "Therefore, when the industry says it needs a regulatory and legislative environment in which credit unions can grow and thrive – lawmakers listen and act."
Read Adams' op-ed here.
Related Resources
---
Get daily updates.
Subscribe to NAFCU today.