March 23, 2021
Key UDAAP considerations outlined in new issue brief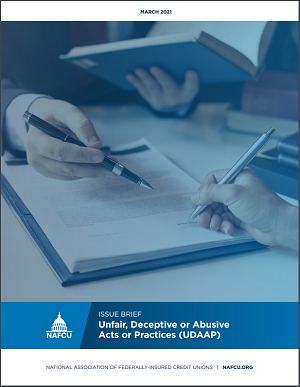 Following the CFPB's rescission of its policy statement related to the "abusive" prong of the unfair, deceptive, or abusive acts or practices (UDAAP) provision, NAFCU has a new issue brief available to help credit unions understand the regulatory landscape and enforcement expectations under the bureau's authority in this area.
NAFCU has long called for clarity under UDAAP and NAFCU Executive Vice President of Government Affairs and General Counsel Carrie Hunt said the rescission "will create regulatory uncertainty on what is considered to be abusive acts or practices." She reiterated that specific examples and defined guidance on prohibited practices are needed "so that the CFPB can prevent abusive behaviors, as opposed to just going after the bad actors in the marketplace."
In the issue brief, NAFCU provides background information on the creation of UDAAP under the Dodd-Frank Act and some context to the approaches utilized by the bureau and courts in evaluating alleged UDAAP violations.
The brief breaks down how the bureau determines whether an act or practice is unfair, deceptive, or abusive, citing previous bureau guidance, enforcement actions, and more. NAFCU details patterns observed in the bureau's enforcement actions on the abusive prong to help credit unions avoid them.
Access the UDAAP issue brief here.
NAFCU has consistently called for clear regulations from financial institution regulators and cautioned against "regulation by enforcement." Earlier this year, the federal regulators finalized an interagency rule that codifies a statement to clarify the differences between regulations and supervisory guidance.
Rohit Chopra, who is awaiting Senate confirmation to lead the CFPB, stated his intent to ensure there are clear rules of the road during his nomination hearing with the Senate Banking Committee last week. Lawmakers raised UDAAP concerns during that hearing, and Chopra acknowledged the importance of clear guidance on the issue.
NAFCU will continue to highlight the importance of clear regulatory guidance and expectations as credit unions work to provide their members with safe, affordable financial products and services.
Related Resources
---
Get daily updates.
Subscribe to NAFCU today.