October 18, 2019
Kraninger provides insights into innovation, rulemakings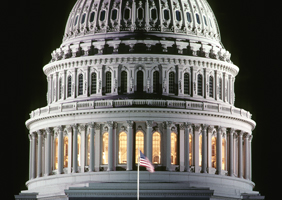 CFPB Director Kathy Kraninger testified before the Senate Banking Committee Thursday and provided lawmakers with insights into the bureau's ongoing efforts related to consumer protection and education, innovation, and more.
Kraninger was providing the bureau's semi-annual report to Congress this week; she testified before the House Financial Services Committee Wednesday. Ahead of both hearings, NAFCU Vice President of Legislative Affairs Brad Thaler shared with lawmakers NAFCU's support of CFPB efforts to target bad actors and encouraged more regulatory relief for credit unions.
During Thursday's hearing, Kraninger emphasized the bureau's work to prevent harm to consumers through consumer education initiatives, clear rules of the road for financial institutions, and strong supervision and enforcement that still support dynamic markets.
Kraninger touted the bureau's commitment to innovation in order to increase consumer access to financial products, including safe credit through the use of alternative data, and improve its approach to supervision. The CFPB recently issued a proposal to use "tech sprints" as a way to encourage innovation and address regulatory compliance challenges.
In addition, Kraninger gave an update on a number of issues that could impact credit unions, including:
In addition, Kraninger shared an update regarding the bureau's creation of a financial law task force as a means to harmonize and modernize federal consumer financial laws. Those interested must apply by Oct. 25 and can contact NAFCU Director of Regulatory Affairs Ann Kossachev for additional information.
Related Resources
---
Get daily updates.
Subscribe to NAFCU today.