June 12, 2019
The latest on CECL, more during today's member call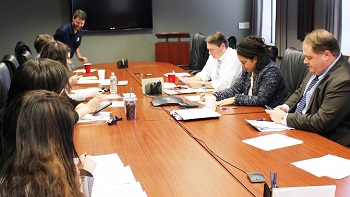 NAFCU President and CEO Dan Berger and the association's award-winning advocacy team today will give members an update on legislative and regulatory priorities – such as obtaining more relief and guidance for the current expected credit loss (CECL) standard – during the association's Q2 Member Call-In. This member-only benefit is free, but registration is required. 
Yesterday, a bipartisan group of 10 representatives introduced legislation to halt the implementation of CECL and require regulators to study its impact (read more here). NAFCU continues to stress concerns about credit unions' unique capital framework, which limits the NCUA's ability to mitigate CECL's effect on institutions' net worth without action from the Financial Account Standards Board. 
In addition to CECL, NAFCU will update members on:
The call is slated to begin at 4:00 p.m. Eastern, and members can submit questions in advance during the registration process or live during the Q&A portion of the call.
Berger will be joined in the call by Executive Vice President of Government Affairs and General Counsel Carrie Hunt, Vice President of Legislative Affairs Brad Thaler, Vice President of Regulatory Compliance Brandy Bruyere, Chief Economist and Vice President of Research Curt Long, Director of Regulatory Affairs Ann Kossachev and Director of Political Affairs Chad Adams.