September 30, 2021
Lawmakers examine future of financial services during hearing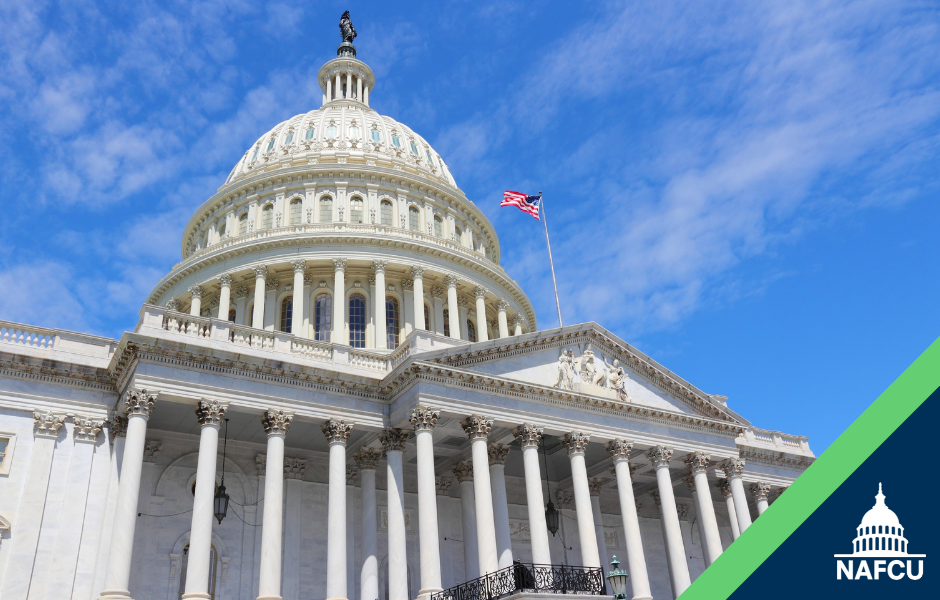 The House Financial Services Subcommittee on Consumer Protection and Financial Institutions Wednesday held its hearing to examine  how financial services industry consolidation, competition, and technology is changing the banking industry. Ahead of the hearing, NAFCU President and CEO Dan Berger fired back against testimony from the American Banker Association's (ABA) witness for misrepresenting voluntary bank-credit union mergers and the benefits of the credit union tax exemption.
"It is ironic that ABA is claiming the credit union tax exemption is a 'new factor' in banks looking to merge with credit unions," said Berger. "Mergers between banks have been occurring at a significantly higher rate with 5,000 mergers between banks occurring since 2003. Just yesterday, the Wall Street Journal examined bank merger data and found that bank to bank mergers were on track to hit the highest level since the financial crisis. ABA should tell policymakers the truth on why their industry is consolidating.

"During the hearing, we call on policymakers to look past the rhetoric by the banks and instead focus on how the banking industry can be safer for consumers. In their efforts to make profits, banks have ignored consumer protection laws resulting in $243 billion in fines since the financial crisis," concluded Berger. "Policymakers should consider creating a modernized Glass-Steagall Act in order to protect consumers and taxpayers from banks that are 'too big to fail.'"
In addition, NAFCU Vice President of Legislative Affairs Brad Thaler wrote to the subcommittee Tuesday to further outline where bank lobbyists inaccurately represent these voluntary mergers and the credit union tax exemption.
In addition to responding to the bankers, Thaler outlined several of NAFCU's priorities under review by the subcommittee, including regulation of fintechs, support for all credit unions being able to add underserved areas, and support for the Credit Union Governance Modernization Act, H.R. 2311, which would make it easier for credit unions to expel members who threaten the credit union.
During the hearing, the topic of bank-credit union mergers was not addressed beyond ABA witness Jim Reuter, Chief Executive Officer of FirstBank. However, though he called for the removal of the credit union tax exemption in his prepared remarks, Reuter changed his tune when asked about raising taxes.
"I am opposed to increased taxes because I think it will act against the stimulus and the momentum we have in the economy right now, so I just think it's a bad idea," said Reuter.
NAFCU continuously works to educate lawmakers about the benefits of the credit union tax exemption and has several resources available on the topic. Earlier this month, the association issued an independent study to examine the benefits brought to consumers, businesses and the U.S. economy by the credit union federal income tax exemption. 
 On the NAFCU-sought Credit Union Governance Modernization Act, Rep. Tom Emmer, R-Minn., a co-sponsor of the bill, spoke to the need for the modernization the legislation provides and explained why it would be beneficial for credit unions. Both he and Subcommittee Chairman Ed Perlmutter, D – Colo., the cosponsors of H.R. 2311, urged passage of the legislation. NAFCU has long heard from credit unions that current expulsion regulations make it difficult to expel members who are physically or verbally abusive, and engaged in fraud or other illegal activities and will continue to advocate in support of the bill.
The association will continue to advocate for an effective legislative and regulatory environment that allows credit unions to thrive.
Related Resources
Add to Calendar 2023-09-27 14:00:00 2023-09-27 14:00:00 Financial Services Mega-Trends: Welcome to a Whole New World of Financial Services About the Webinar A transformation is underway in the U.S. financial services industry that will have a profound impact on how participants do business, how they strategize about their futures, and how they collaborate around products, service and information. During this session, Cynthia Schroeder, Larry Pruss, and Patti Wubbels will highlight mega-trends worth watching. Key Takeaways: • How the financial services business model is changing • How new entrants are disrupting the industry through innovation • How technology is changing the nature of financial services delivery and distribution • How demographic shifts require credit unions to adapt their cultures and value propositions to gain market share among younger members • How credit unions must adopt a security-first mindset to protect their reputations and the data of their members Register Here Web NAFCU digital@nafcu.org America/New_York public
preferred partner
Strategic Resource Management
Webinar
Mortgage Servicing
preferred partner
Dovenmuehle
Blog Post
Cybersecurity, Risk Management
preferred partner
DefenseStorm
Blog Post
---
Get daily updates.
Subscribe to NAFCU today.