March 14, 2019
Lawmakers note high compliance burden of BSA/AML requirements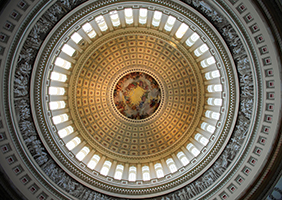 During a House Financial Services subcommittee hearing Wednesday on legislative solutions to detect and deter financial crimes, lawmakers noted the compliance burden financial institutions face when trying to comply with Bank Secrecy Act (BSA)/anti-money laundering (AML) requirements.
Ahead of the hearing, NAFCU Vice President of Legislative Affairs Brad Thaler wrote to the Subcommittee on National Security, International Development and Monetary Policy thanking House Financial Services Committee leadership for their efforts to strengthen and improve the BSA/AML system.
Lawmakers and witnesses Wednesday discussed a number of credit union-related issues, including filing thresholds for currency transaction reports (CTRs) and suspicious activity reports (SARs), and beneficial ownership requirements. They also noted law enforcement's need for information contained in SARs and CTRs to track down bad actors.
Rep. Blaine Luetkemeyer, R-Mo., stressed the importance of finding a "sweet spot" to raise SAR and CTR thresholds in order to reduce financial institutions' filing burdens and also make the reports more effective for law enforcement. One of the witnesses testified that only about 5 percent of SARs and CTRs provide value to law enforcement.
A NAFCU witness has previously testified on the need for BSA/AML reforms, and the association is supportive of introduced legislation that would provide some relief to credit unions by raising certain thresholds, including for CTRs and SARs.
The subcommittee's discussion centered on three proposals, one of which is offered by Committee Chairwoman Maxine Waters, D-Calif., that would make changes to AML safeguards. Committee Member Carolyn Maloney, D-N.Y., offered another one to require corporations to disclose more information about their owners.
NAFCU also joined with eight other financial services industry trades Wednesday to urge leaders of the House Financial Services and Senate Banking Committees address a number of issues related to the Financial Crimes Enforcement Network's (FinCEN) customer due diligence rule through a federal beneficial ownership registry of legal entities, and to modernize the BSA framework.
NAFCU has various resources available on these issues, including a Compliance Blog post that outlines what regulators look for when reviewing credit unions' BSA/AML programs during examinations. Another NAFCU Compliance Blog provides credit unions with a refresher on Office of Foreign Assets Control (OFAC) requirements and how they impact compliance with the BSA's customer due diligence rule and beneficial ownership provisions.
Related Resources
---
Get daily updates.
Subscribe to NAFCU today.