November 10, 2020
NAFCU: CFPB changes to records, information disclosure 'largely preserve status quo'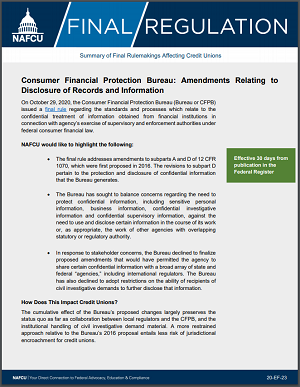 Following the CFPB's issuance of the final rule to amend its Disclosure of Records and Information Regulation last month, NAFCU yesterday sent members a Final Regulation alert detailing the changes and their impact on credit unions.
In the Final Regulation, NAFCU highlighted that the bureau:
revised amendments to subpart D of 12-CFR-1070 pertaining to the protection and disclosure of confidential information that the bureau generates;

sought to balance concerns regarding the need to protect confidential information, including sensitive personal information, business information, confidential investigative information and confidential supervisory information, against the need to use and disclose certain information in the course of its work or, as appropriate, the work of other agencies with overlapping statutory or regulatory authority;

declined to finalize proposed amendments that would have permitted the agency to share certain confidential information with a broader array of governmental "agencies," including international regulators; and

declined to adopt additional restrictions on the ability of recipients of civil investigative demands to further disclose that information.
"The cumulative effect of the Bureau's proposed changes largely preserves the status quo as far as collaboration between local regulators and the CFPB, and the institutional handling of civil investigative demand material," NAFCU wrote in the Final Regulation. "A more restrained approach relative to the Bureau's 2016 proposal entails less risk of jurisdictional encroachment for credit unions."
In response to the bureau's request for comment on the proposed amendments in 2016, NAFCU sought clarification for the enhanced discretion to share information and how it would enable better cooperation with other agencies.
The rule will take effect 30 days after publication in the Federal Register.
Related Resources
---
Get daily updates.
Subscribe to NAFCU today.