July 31, 2020
NAFCU concerns with E-SIGN, consumer data, QM addressed during CFPB hearing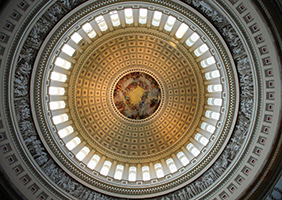 Members of the House Financial Services Committee questioned CFPB Director Kathy Kraninger on several issues important to credit unions during her testimony before the committee Thursday. Of note, flexibility under the E-SIGN Act, protecting consumer data, reforming the bureau's leadership structure, and revising the definition of a qualified mortgage were discussed.
Ahead of the hearing, NAFCU Vice President of Legislative Affairs Brad Thaler wrote to the committee outlining credit unions' concerns on several of these issues.
On E-SIGN, NAFCU has urged support of the E-SIGN Modernization Act, S. 4159, which aims to streamline how consumers consent to receiving electronic documents and will help credit unions better meet the needs of members while respecting social distancing requirements, and has urged the CFPB to modernize electronic disclosure and signature-related provisions of all its regulations.
During Thursday's hearing, Kraninger acknowledged some of the limitations the E-SIGN Act places on financial institutions and consumers, and noted that the bureau is taking a flexible approach to its supervisory and enforcement practices related to electronic credit card disclosures amid the coronavirus pandemic.
In addition, Rep. Ann Wagner, R-Mo., flagged concerns – which align with many of NAFCU's – about the bureau's efforts to increase consumers' access to data, which could lead to exploitation by unregulated entities. Kraninger indicated the that the bureau is working to address concerns related what kind of data is available and what consumers know about the data.
Several lawmakers also raised the recent Supreme Court decision that found the bureau's single director structure is unconstitutional and reiterated NAFCU-backed calls to reform the CFPB to a bipartisan commission.
On QM, the bureau has proposed a rule to revise the definition of a QM under the ability-to-repay/QM rule in light of the expiration of the government-sponsored enterprise (GSE) patch. NAFCU has discouraged the CFPB from pursuing a QM definition that uses the spread between the annual percentage rate (APR) and the average prime offer rate (APOR) as a proxy for underwriting requirements, which several lawmakers also expressed concerns about.
Kraninger also testified before the Senate Banking Committee earlier this week.
NAFCU will continue to work with Congress and the CFPB to obtain regulatory relief for credit unions.
Related Resources
---
Get daily updates.
Subscribe to NAFCU today.