August 09, 2018
NAFCU to CUs: How would proposed GSE capital rule affect loans?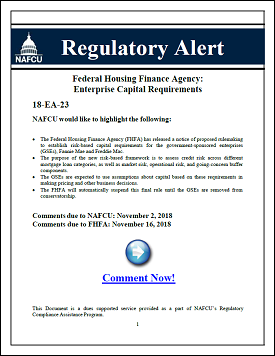 NAFCU is asking credit unions for their input on the Federal Housing Finance Agency's (FHFA) proposed rule that would set capital requirements for government-sponsored enterprises (GSEs) Fannie Mae and Freddie Mac. NAFCU is supportive of efforts that will ensure the GSEs' stability in the secondary mortgage market.
In a Regulatory Alert sent to member credit unions Wednesday, NAFCU notes that the purpose of the new risk-based framework is to assess credit risk across different loan categories, as well as market risk, operational risk and going-concern buffer components. It would establish new framework for risk-based capital (RBC) requirements and two alternatives for an updated minimum leverage capital requirement: one would require the GSEs to hold capital equal to 2.5 percent of total assets, and the other would require them to hold capital equal to 1.5 percent of trust assets and 4 percent of non-trust assets.
NAFCU would like to know:
if credit unions have any concerns about creating RBC requirements for the GSEs when comprehensive housing finance reform has yet to be achieved;
whether the rule, if finalized, would make it harder to extend loans to a credit union's members;
if the rule would make loans more expensive for borrowers with low credit scores; and
if the two alternative leverage ratio proposals go far enough.
The final rule would be suspended until the GSEs were removed from conservatorship.
The FHFA decided to extend the comment period on this proposal until Nov. 16; credit unions can submit feedback on the proposed rule through the Regulatory Alert until Nov. 2.
Related Resources
---
Get daily updates.
Subscribe to NAFCU today.