September 27, 2019
NAFCU economist: Consumers key in fragile economy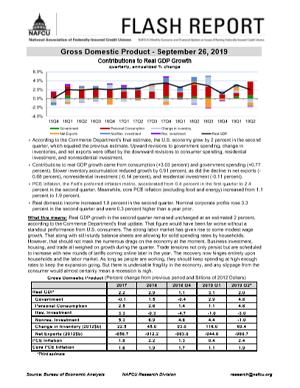 NAFCU's Curt Long attributed the 2 percent economic growth during the second quarter to "a standout performance from U.S. consumers." However, he acknowledged that "there is an undeniable fragility in the economy, and any slippage from the consumer would almost certainly mean a recession is nigh."
"The strong labor market has given rise to some modest wage growth," said Long, NAFCU's chief economist and vice president of research. "That along with still-sturdy balance sheets are allowing for solid spending rates by households. However, that should not mask the numerous drags on the economy at the moment."
Long identified business investment, housing, and trade – and the potential for higher trade tensions as another round of tariffs are set to take effect later this year – as the components that are negatively impacting growth.
"The recovery now hinges entirely upon households and the labor market. As long as people are working, they should keep spending at high enough rates to keep the expansion going," Long concluded.
According to the Commerce Department's final second quarter estimate, overall contributions to real GDP growth came from consumption (+3.03 percent) and government spending (+0.77 percent). Inventory accumulation (-0.91 percent), net exports (-0.68 percent), nonresidential investment (-0.14 percent), and residential investment (-0.11 percent) reduced growth.
The Federal Reserve's preferred inflation metric, PCE inflation, accelerated from 0.4 percent in the first quarter to 2.4 percent in the second quarter. Core PCE inflation (excluding food and energy) increased from 1.1 percent to 1.9 percent in the second quarter.
Related Resources
Add to Calendar 2023-02-03 09:00:00 2023-02-03 09:00:00 Winning the Battle for Deposits Listen On: Key Takeaways: [01:28] An overview of the current macro environment. [02:55] Traditional tactics used by credit unions in the battle for deposits and why these are no longer enough. [07:39] Rife competition in the credit union space and how to stand out from the crowd.  [10:23] The benefits credit unions can experience by reducing the cognitive load of their members [18:17] Advantages and disadvantages of PFM tools in the battle for deposits.  [20:14] What credit unions should demand of their vendors. Web NAFCU digital@nafcu.org America/New_York public
preferred partner
Personetics
Podcast
Add to Calendar 2023-02-02 14:00:00 2023-02-02 14:00:00 How to Leverage Loan Participations in a Low Liquidity Environment About The Webinar As credit unions continue to face challenges with liquidity starting off 2023, strategic pricing and long-term alternative funding strategies can play a key role in allowing credit unions to serve more members and successfully manage the balance sheet. Loan participations can play a key role helping credit unions sustainably grow their originations, provide the marketplace access to quality, short duration investments, and successfully grow market share. Please join Amy Henderson, Chief Consumer Services Officer at Greenstate CU, Devin Hughes, VP of Business Development at LendKey, and Michael Adams, VP of Lender Development at Open Lending for a panel discussion to learn how credit unions can strategically serve more members, effectively price for loans, and successfully manage their balance sheet. Attendees will: Hear from Credit Union and FinTech experts Learn about loan pricing strategies and participation strategies Glean best practices from industry leaders who have been executing on these innovative strategies that better position the balance sheet for long term growth Find out how credit unions can start the process to identify trusted partners to help them execute on this strategy and serve more members Register for the Webinar Web NAFCU digital@nafcu.org America/New_York public
preferred partner
Open Lending
Webinar
Management, Relationships, Consumer Lending
preferred partner
Wolters Kluwer
Blog Post
---
Get daily updates.
Subscribe to NAFCU today.