September 27, 2019
NAFCU economist: Consumers key in fragile economy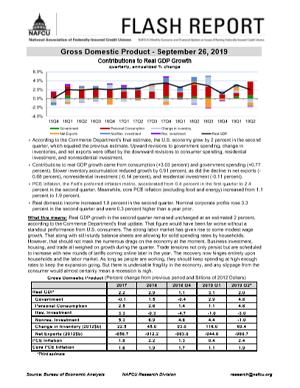 NAFCU's Curt Long attributed the 2 percent economic growth during the second quarter to "a standout performance from U.S. consumers." However, he acknowledged that "there is an undeniable fragility in the economy, and any slippage from the consumer would almost certainly mean a recession is nigh."
"The strong labor market has given rise to some modest wage growth," said Long, NAFCU's chief economist and vice president of research. "That along with still-sturdy balance sheets are allowing for solid spending rates by households. However, that should not mask the numerous drags on the economy at the moment."
Long identified business investment, housing, and trade – and the potential for higher trade tensions as another round of tariffs are set to take effect later this year – as the components that are negatively impacting growth.
"The recovery now hinges entirely upon households and the labor market. As long as people are working, they should keep spending at high enough rates to keep the expansion going," Long concluded.
According to the Commerce Department's final second quarter estimate, overall contributions to real GDP growth came from consumption (+3.03 percent) and government spending (+0.77 percent). Inventory accumulation (-0.91 percent), net exports (-0.68 percent), nonresidential investment (-0.14 percent), and residential investment (-0.11 percent) reduced growth.
The Federal Reserve's preferred inflation metric, PCE inflation, accelerated from 0.4 percent in the first quarter to 2.4 percent in the second quarter. Core PCE inflation (excluding food and energy) increased from 1.1 percent to 1.9 percent in the second quarter.
Related Resources
Accounts Operations Consumer Lending
Blog Post
Credit Unions, Board of Directors, Web/Tech, Organizational Change, Merger
preferred partner
DDJ Myers
Blog Post
---
Get daily updates.
Subscribe to NAFCU today.