May 27, 2021
NAFCU seeks CU feedback on NCUSIF NOL policy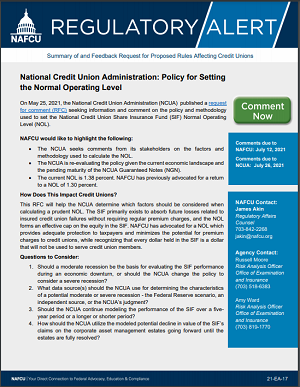 As the NCUA reviews the policy and methodology used to set the National Credit Union Share Insurance Fund's (NCUSIF) normal operating level (NOL), NAFCU is seeking member credit unions' feedback on evaluating NCUSIF performance, data sources, modeling timelines, and more.
The NCUA issued the request for comment during its board meeting earlier this month. In a Regulatory Alert sent to members Wednesday, NAFCU notes that the NOL policy review stems from the current economic landscape and the pending maturity of the NCUA Guaranteed Notes (NGNs).
The board adopted the current policy in 2017, which set the NOL at 1.39 percent and was later revised to its current level of 1.38 percent; NAFCU has consistently urged the agency to return the NOL to its historic level of 1.3 percent.
The Regulatory Alert details how the issue impacts credit unions, noting that the "SIF primarily exists to absorb future losses related to insured credit union failures without requiring regular premium charges, and the NOL forms an effective cap on the equity in the SIF."
"NAFCU has advocated for a NOL which provides adequate protection to taxpayers and minimizes the potential for premium charges to credit unions, while recognizing that every dollar held in the SIF is a dollar that will not be used to serve credit union members," the alert reiterates.
The Regulatory Alert provides additional information on the NCUSIF, NOL, and the request for comment, as well as questions for credit unions to consider as they provide feedback. Comments are due to NAFCU July 12 and can be submitted through the alert; comments are due to the NCUA July 26.
Related Resources
---
Get daily updates.
Subscribe to NAFCU today.