September 17, 2020
NAFCU-sought E-SIGN bill advances to Senate; Calabria defends GSE refinance fee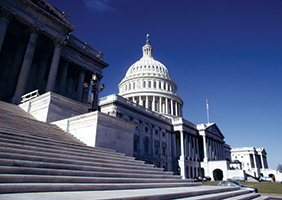 NAFCU's award-winning advocacy team monitored a pair of congressional committee meetings Wednesday on key credit union issues: A markup in the Senate Commerce Committee, which included a NAFCU-sought bill to modernize the E-SIGN Act, and a full House Financial Services Committee review of the Federal Housing Finance Agency's (FHFA) policy efforts amid the coronavirus pandemic.
The Senate Commerce Committee advanced the E-SIGN Modernization Act (S. 4159) to the full chamber along party lines. The NAFCU-supported bill would make changes to the E-SIGN Act so that it reflects technological advancements and consumer preferences, as well as reduces burdens on financial institutions.
Ahead of the markup, NAFCU wrote the committee in support of the bill and to highlight challenges exacerbated by the coronavirus pandemic that would be assuaged under the modernization bill. E-SIGN reforms were also discussed at NAFCU's Congressional Caucus Tuesday.
In the House Financial Services Committee hearing, FHFA Director Dr. Mark Calabria pushed back against lawmakers' criticism of the agency's planned 0.5 percent adverse market refinance fee for government-sponsored enterprise (GSE)-backed mortgages. NAFCU came out strong against the fee when it was announced last month – arguing that it would add financial costs to credit unions trying to support members amid the coronavirus pandemic – and the FHFA subsequently delayed the fee's implementation until Dec. 1, 2020.
Calabria said the planned fee is to help protect the GSEs from losses resulting from the coronavirus pandemic and related measures mandated by Congress. The FHFA previously outlined the areas the GSEs are expected to experience losses in, which could total at least $6 billion. While not making an actual request for funds, Calabria noted lawmakers could provide monies to the GSEs to cover the losses and avoid the fee.
NAFCU has worked closely with the FHFA and Congress amid the coronavirus pandemic to share how credit unions are working with members facing financial hardships and obtain relief for mortgage servicers faced with increased forbearance requests. The association detailed credit unions' perspective on the GSE refinance fee, re-proposed capital rule, and forbearance provisions ahead of the hearing to caution lawmakers against policies that could contribute to another housing crisis. Calabria also addressed credit unions at NAFCU's Virtual Congressional Caucus this week.
Related Resources
---
Get daily updates.
Subscribe to NAFCU today.