September 20, 2019
NAFCU-sought fix for SBA fees in short-term funding bill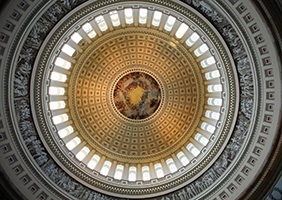 In a win for credit unions, the short-term funding bill passed by the House Thursday includes a NAFCU-sought appropriation for the Small Business Administration (SBA) that would avert a potential shutdown of the 7(a) program and eliminate the need to raise fees. NAFCU witness Gail Jansen raised concerns about the increased fees during congressional testimony earlier this year.
Current government funding, including that for the National Flood Insurance Program (NFIP), is set to expire at the end of the month. The House-passed continuing resolution will extend funding until Nov. 21; the legislation must be passed by the Senate and signed by the president by Sept. 30 to avert a government shutdown.
Section 130 of the continuing resolution includes the SBA appropriation. Jansen, vice president of business services and operations at Kinecta Federal Credit Union, in April told members of a House Small Business subcommittee that 7(a) fee increases would make it more difficult for small businesses to get loans. Following Jansen's testimony, the House Small Business Committee requested the Government Accountability Office evaluate the SBA's fiscal year 2020 budget estimates for the loan program.
NFIP authorization would also be extended under the legislation. NAFCU has pushed for a number of improvements to the NFIP, including longer-term reauthorization of the program to prevent lapses.
In addition, Senate appropriators continue to work through individual, longer-term spending bills. It advanced the 2020 financial services and general government (FSGG) bill Thursday with funding for credit union programs, including $251 million for the Community Development Financial Institutions (CDFI) Fund. NAFCU urged the Senate to consider funding the program at the House-approved level of $300 million.
NAFCU also urged the Senate Appropriations Committee to support NCUA's Community Development Revolving Loan Fund at the same level as the House, but the Senate FSGG bill did not address funding the program.
NAFCU will keep credit unions updated as the Senate takes up the short-term spending bill to avoid a government shutdown and discussions continue on longer-term funding.
Related Resources
Business Lending
Blog Post
---
Get daily updates.
Subscribe to NAFCU today.