December 13, 2018
NAFCU-sought RBC delay bill introduced in Senate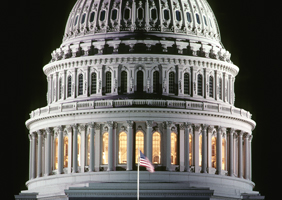 Sen. Mike Rounds, R-S.D., introduced a NAFCU-sought bill  (S. 3750) today that would delay the NCUA's risk-based capital (RBC) rule an additional year – moving its implementation date from Jan. 1, 2020, to Jan. 1, 2021.
The NCUA in October approved of a one-year delay of the rule – moving it from Jan. 1, 2019 to Jan. 1, 2020 – and Rounds' bill would provide credit unions with an additional year to ensure proper compliance. The agency, in its action, also amended the definition of a complex credit union from $100 million to $500 million – exempting an additional 1,026 credit unions from the rule – a change welcomed by NAFCU.
"On behalf of our membership and the entire credit union industry, we thank Senator Mike Rounds for supporting credit unions and introducing legislation to delay the NCUA's RBC rule an additional year," said NAFCU Vice President of Legislative Affairs Brad Thaler. "While NCUA's delay was extremely welcome, we believe additional study is needed – particularly as relates to ensuring that credit union capital requirements are no more stringent than those required of the banking industry."
NAFCU supports an appropriate RBC system for credit unions. Over the past few years, the association has consistently opposed the NCUA's RBC rulemaking and has urged the rule be modified or effective date delayed, particularly because of increased regulatory burdens and costs that the association believes need to be addressed, including changes made to bank capital by S. 2155.
A similar bill introduced in the House by Reps. Bill Posey, R-Fla., and Denny Heck, D-Wash. – with whom NAFCU met and thanked – passed the House three times this year. One of the vehicles, a regulatory relief package called the JOBS Act 3.0, is still pending in the Senate. Thaler noted that today's action by Rounds is an important step to keep the RBC provision in the JOBS Act as part of the discussion for end-of-year legislation by ensuring that the delay proposal is bicameral.
Related Resources
---
Get daily updates.
Subscribe to NAFCU today.