March 06, 2019
NAFCU touts CU priorities to Congress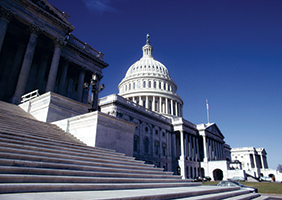 Following up on a letter sent to House and Senate leaders at the start of the 116th Congress, NAFCU Vice President of Legislative Affairs Brad Thaler on Tuesday further expanded on the details of the association's 2019 priorities, including action items to achieve them.
Thaler sent letters to Senate Majority Leader Mitch McConnell, R-Ky., and Senate Minority Leader Chuck Schumer, D-N.Y.; and House Speaker Nancy Pelosi, D-Calif., and House Minority Leader Kevin McCarthy, R-Calif., that were copied to their respective chambers.
Ensuring an environment that allows credit unions to grow and thrive is a leading priority of NAFCU, and Thaler outlined these action items in that area:
Preserving the credit union tax exemption. NAFCU has long defended the industry's tax status and the association's advocacy was featured in this Wall Street Journal article. An independent study commissioned by NAFCU found the credit union tax exemption provides a $16 billion per year benefit to the U.S. economy and allows credit unions to offer better loan and deposit rates to consumers.
Reforming the housing finance system and government-sponsored enterprises. Thaler notes the bipartisan interest in addressing this issue and said "preserving a government guarantee, maintaining unfettered access to the secondary market, and ensuring fair pricing for credit unions based on loan quality will remain a top legislative issue for NAFCU."
Reforming field of membership. NAFCU believes the federal charter should keep pace with state charters. Thaler says there are opportunities for legislative improvements to the Federal Credit Union Act, including to allow all credit unions to add underserved areas.
Reforming capital and risk-based capital (RBC) rules. Thaler reiterates NAFCU's request that Congress further delay the NCUA's RBC rule until 2021 to allow the agency more time to reconsider its approach. He also notes the need for improved access to alternative capital, including both secondary capital and supplemental capital.
Modernizing the Telephone Consumer Protection Act (TCPA). NAFCU has previously shared its concerns related to the definition of an autodialer and the need for clarity under the TCPA to ensure credit unions can contact their members without fear of breaking the law. The association has actively worked with the FCC on the issue for more than three years.
In addition to growth, the other priorities outlined by Thaler are: regulatory relief, a fair playing field, government transparency and accountability, and a strong, independent NCUA as credit unions' primary regulator. Some of the action items include reconsidering the current expected credit loss (CECL) standard, enacting a national data security standard and obtaining guidance on website accessibility requirements under the Americans with Disabilities Act (ADA).
Learn more about NAFCU's priorities for Congress and action items for each here.
Related Resources
---
Get daily updates.
Subscribe to NAFCU today.