December 05, 2019
NAFCU wants CUs protected as House passes bill targeting robocalls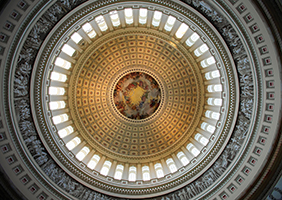 Lawmakers in the House Wednesday, in a 417-3 vote, passed legislation that would expand the Federal Communications Commission's (FCC) enforcement authority over violations of the Telephone Consumer Protection Act (TCPA) and require voice services providers to authenticate and block illegal robocalls.
The Senate passed a version of the Telephone Robocall Abuse Criminal Enforcement and Deterrence (TRACED) Act in May, but had to work out differences with a House-passed robocall bill. During Wednesday's debate of that compromise package, lawmakers cited instances where themselves and constituents had been the target of robocalls. The measure now goes back to the Senate for final action.
Commenting on the bill's passage, NAFCU Vice President of Legislative Affairs Brad Thaler shared the association's support of Congress's efforts to eliminate illegal robocalls; however, he stressed the importance of ensuring legitimate callers, such as credit unions, are protected.
"In the event of potential fraud, a data breach or other important updates to existing accounts, credit unions proactively work to alert their members of any questionable activity," said Thaler. "Public policy should clearly distinguish between legitimate communications and illegal robocalls and provide avenues for credit unions to share important information with their members. We thank Congress for their efforts and encourage policymakers to protect consumers' access to the information they need."
FCC Chairman Ajit Pai is set to testify in front of a House Committee on Energy and Commerce Subcommittee today as part of a series of oversight hearings. In a letter sent ahead of the hearing, Thaler reiterated NAFCU's concerns regarding the TRACED Act and sought further clarity on the FCC's  definition of autodialer.
"Since the FCC issued its problematic 2015 Declaratory Ruling and Order (2015 Order), the risk of facing a costly lawsuit over inadvertent TCPA violations has kept many credit unions from freely communicating needed financial information with their members," wrote Thaler.
NAFCU has actively worked with the Federal Communications Commission (FCC) over the past three years to obtain more clarity and flexibility under the Telephone Consumer Protection Act  to ensure credit unions can contact their members without fear of breaking the law.
Related Resources
---
Get daily updates.
Subscribe to NAFCU today.