July 30, 2019
NAFCU's Virkus reiterates need for fintech oversight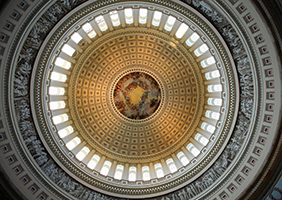 Ahead of a Senate Banking Committee hearing today on cryptocurrencies and blockchain, NAFCU Associate Director of Legislative Affairs Max Virkus reiterated the need for appropriate oversight of new financial technologies to protect consumer data and compete on a level playing field with credit unions.
"Congress and regulators must ensure that when companies offering digital currencies compete with financial institutions, they do so on a level playing field where tested regulations and consumer protections apply to all actors," wrote Virkus in a letter to the committee. "It is clear that digital assets pose a unique risk and regulators must be equipped, with suitable Congressional oversight, to provide supervision over these markets to protect consumers and our economy."
Virkus added that "NAFCU is supportive of innovation in the marketplace that maintains an inclusive, safe, and strong financial system." The association acknowledges that fintech can produce real benefits to consumers, including increased speed, convenience and new product offerings that make it easier for them to manage their financial lives.
For example, NAFCU was the first financial trade in the U.S. to join Hyperledger, a leading blockchain consortium that includes some of the largest technology and financial services companies in the world. It also was the first non-profit financial services trade association to partner with Enterprise Ethereum Alliance (EEA) – the world's largest open-source blockchain initiative, providing research and technology development in a range of areas beneficial to credit unions, including privacy, confidentiality, scalability and security.
However, NAFCU remains committed to ensuring a level playing field for credit unions through appropriate regulation and oversight and has long urged lawmakers to establish a national data security standard.
Virkus recently shared similar concerns to both the Senate Banking and House Financial Services Committees as they examined Facebook's proposed cryptocurrency, Libra.
Today's hearing is set to begin at 10 a.m. Eastern; a livestream is available here.
Related Resources
---
Get daily updates.
Subscribe to NAFCU today.