December 20, 2019
Senate passes robocall bill, gov't spending packages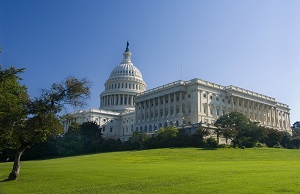 Lawmakers in the Senate Thursday passed legislation aimed at expanding the Federal Communications Commission's (FCC) enforcement authority over violations of the Telephone Consumer Protection Act (TCPA) and requiring voice services providers to authenticate and block illegal robocalls. The bill now moves to President Donald Trump for final action.
Additionally, the Senate passed two House-advanced spending packages to avert a government shutdown and provide funding through the rest of fiscal year 2020. The president is expected to sign the legislation ahead of today's funding deadline.
Telephone Robocall Abuse Criminal Enforcement and Deterrence (TRACED) Act, S. 151
The Senate previously passed a version of the TRACED Act in May, but had to work out differences with the House-passed bill targeting illegal robocalls.
In previous comments on the bill's passage, NAFCU Vice President of Legislative Affairs Brad Thaler shared the association's support of Congress' efforts to eliminate illegal robocalls; however, he stressed the importance of ensuring legitimate callers, such as credit unions, are protected.
"Public policy should clearly distinguish between legitimate communications and illegal robocalls and provide avenues for credit unions to share important information with their members," said Thaler.
NAFCU has actively worked with the FCC on efforts to modernize the TCPA for more than three years, and will continue its advocacy to ensure credit unions can contact their members regarding important, time-sensitive information, without fear of frivolous litigation.
Earlier this month, the associaion met with FCC Commissioner Michael O'Rielly to discuss ongoing efforts to eliminate illegal robocalls and to implement the new caller identification framework known as SHAKEN/STIR.  Relatedly, NAFCU recently submitted a comment letter on a petition to the FCC requesting a ruling to allow businesses to send a clarifying text message after a consumer sends an opt-out request without violating the TCPA.
Government Funding
Congress last month passed a continuing resolution extending funding to today. The spending packages contain a dozen spending bills for various federal departments and agencies between them. Included in the packages is NAFCU-sought funding for key credit union priorities, including:
The Community Development Financial Institutions (CDFI) Fund:

$262 million for the CDFI Fund, which helps credit unions in low-income areas serve members in need, and the CDFI Fund grant program gives credit unions access to funds that they are not able to raise from the capital markets;

The Community Development Revolving Loan Fund (CDRLF):

$1.5 million for the CDRLF, which NAFCU has also advocated funding for to support low-income members and underbanked communities; and

Small Business Administration (SBA) programs:

In addition to funding SBA lending programs, the final budget included funds for SBA's 7(a) loan program to prevent fee increases, which NAFCU witness Gail Jansen had raised concerns about the increased fees during congressional testimony earlier this year.
In addition to government funding, the spending packages included provisions for some tax fixes and extenders, including a NAFCU-sought fix to repeal excise tax imposed on certain fringe benefits (such as parking) offered by not-for-profits.  NAFCU-sought grandfathering of the excise tax on certain executive compensation was not addressed in the bill. 
In addition to funding, the package carried several other notable provisions for credit unions.  Stay tuned to NAFCU Today  for more updates from Capitol Hill.
Related Resources
---
Get daily updates.
Subscribe to NAFCU today.