March 11, 2020
Senators question Kraninger on QM proposal, MLA authority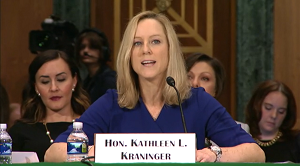 CFPB Director Kathy Kraninger, while testifying before the Senate Banking Committee Tuesday, provided updates on efforts related to amending the definition of a qualified mortgage (QM) and potential expiration of the government-sponsored enterprise (GSE) patch, as well as the bureau's authority under the Military Lending Act (MLA).
Ahead of the hearing, NAFCU outlined areas where the CFPB could be improved, including reforming its governance structure to a bipartisan commission, and shared credit unions' position on the QM rule.
The bureau last year issued an advance notice of proposed rulemaking (ANPR) to address the upcoming expiration of the category of loans that obtain QM status due to their eligibility for purchase or guarantee by the GSE patch. The GSE patch is an exemption for loans eligible for purchase by the GSEs from the QM rule's 43 debt-to-income (DTI) cap; it's currently set to expire either when the GSEs are removed from conservatorship or on Jan. 10, 2021.
In response to a question from Sen. Thom Tillis, R-N.C., Kraninger said a proposal to amend the rule to move away from the DTI and toward an average prime offer rate (APOR) threshold is expected in May. She also reiterated the bureau's intention to let the GSE patch expire in 2021 or after a short extension if necessary to facilitate a transition.
NAFCU has previously met with representatives at the CFPB to discuss the QM patch. The association also highlighted the benefits of the GSE patch in providing credit unions with the ability to sell their loans into the secondary market – generating "vital" liquidity enabling credit unions to make more loans to their members, especially those of low- or moderate-income.
On MLA, the bureau in August 2018 – under Acting Director Mick Mulvaney – indicated it would no longer examine financial institutions for compliance with the law as it didn't have explicit authority. Kraninger, after assuming the director position, sent draft legislation to Congress that would give the bureau clear authority to supervise for compliance.
Sen. Martha McSally, R-Ariz., said she plans to introduce legislation to codify the CFPB's authority to supervise MLA, for which Kraninger indicated her support.
NAFCU will continue to work with the bureau and Congress to ensure credit unions are not unnecessarily burdened by CFPB rulemakings and can effectively provide products and services to the 120 million Americans who are credit union members.
Related Resources
---
Get daily updates.
Subscribe to NAFCU today.